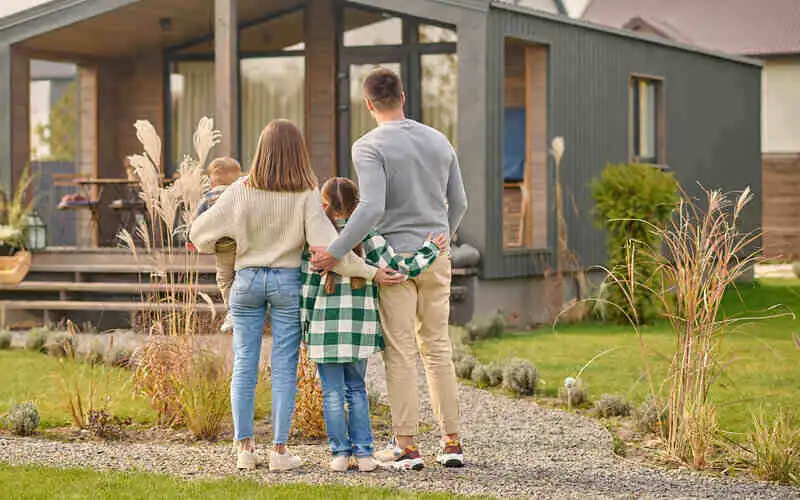 Key points:
655,000 properties across Australia's three largest cities have the potential to host a two-bedroom granny flat
By building granny flats, homeowners could help alleviate the housing crisis and increase their property values
It may be an effective way to bypass the lengthy process of creating shovel-ready blocks of land
Property owners in Australia's three largest cities have an opportunity to increase their home's value while softening the housing crunch, according to a new report from Archistar, Blackfort, and CoreLogic.
It found 655,000 properties across Melbourne, Sydney, and Brisbane were suitable for a new self-contained two-bedroom unit.
Sydney has the majority of the potential construction sites, with 242,000 properties, representing 17.6% of housing stock, found to be suitable for a granny flat.
Melbourne offers nearly 230,000 potential sites, representing 13.2% of stock, and Brisbane holds almost 185,000 suitable sites, 23.3% of the city's houses.
"NHFIC [Housing Australia] forecasts indicate the national housing market is likely to be undersupplied to the tune of 106,300 dwellings over the next five years," CoreLogic research director Tim Lawless said.
"For policy makers and government, granny flats present an immediate and cost-effective opportunity to deliver much needed housing supply within existing town planning guidelines.
"For homeowners, the addition of a second self-contained dwelling provides an opportunity to provide rental housing or additional accommodation for family members, while at the same time, increasing the value of their property and potentially attaining additional rental income."
A shortage of land bears a large part of the blame for the housing crisis Australia currently finds itself in, according to the Housing Industry Association (HIA).
"This land shortage continues to drive up prices despite the sharpest increase in interest rates in over 30 years and will weigh on home building activity in the coming years," HIA senior economist Tom Devitt said on the release of the latest HIA-CoreLogic Residential Land Report.
The time it takes to transform land into a shovel-ready block with titles and approvals could prove hazardous to the government's plan to build 1.2 million homes over the five years from 2024.
Of the 655,000 sites found to already be suitable for a new granny flat, more than a third are within two kilometres of a train or light rail station and 17% are in suburbs that also house a hospital.
That means many properties could offer a fast-track solution for the housing of essential health care workers.
"Since granny flat developments leverage existing lot areas and require no changes to town planning regulation, they offer an immediate opportunity to address housing shortages and affordability pressures expected in the coming five years for both buyers and renters," Archistar co-founder Dr Benjamin Coorey said.
Melbourne and Sydney are expected to face a housing deficit from 2023 to 2027 of 23,800 and 12,100 dwellings respectively.
Meanwhile, Brisbane housing supply is forecast to reach a shortage of 3,100 houses this year.
"CoreLogic figures show an extra two bedrooms, and an additional bathroom could add around 32% to the value of an existing dwelling," Mr Lawless said.
"For a house worth $500,000, the addition of a granny flat has the potential to add approximately $160,000 to the value of the property."
Image by zinkevych on Freepik.