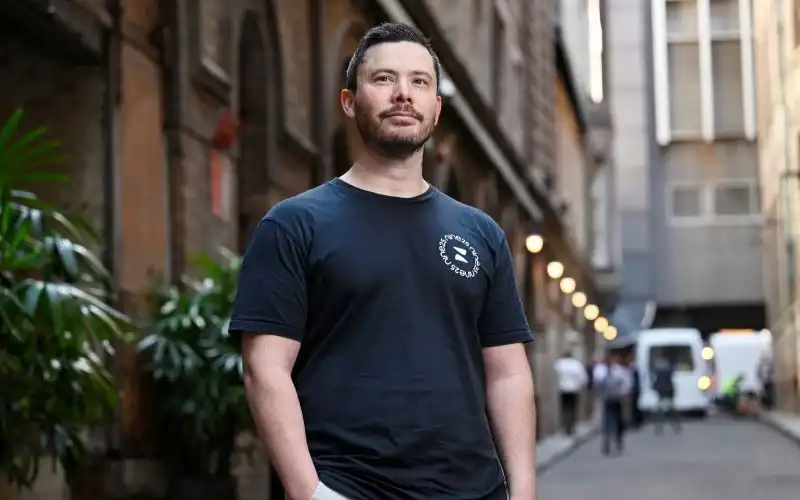 Powered by investing-as-a-service fintech Cache, the app pronounced 'Nine-Two-Five' is expected to be ready next week to take on investors.
This comes after securing a $1.5 million capital raise in November; the company is currently seeking another $2 million, launched three weeks ago.
The app, which currently has 20,000 members, is designed for younger investors - 18-26 year olds - and portfolios are managed by signatories of the NetZero Asset Managers initiative.
While detail was light on announcement, Nine25 founder Leigh Dunsford (pictured above) spoke to InfoChoice Group about some of the key points.
"Research has told us that users want the ability to start investing from as little as $1. And they also want to invest in things that resonate own beliefs in the market," Mr Dunsford said.
"And so we spent 12 months developing portfolios of ETFs [exchange traded funds], which contain shares."
What you can invest in
From next week, four portfolios will be available, with further details to be announced then; a total of 14 are expected to be on offer eventually:
Robotics and AI
Big Tech
Top Aussie & Global
Bling: Gold and silver
"We spent almost four months curating, and researching and back testing and making sure that those portfolios are very unique to our platform only," Mr Dunsford said.
"If you're interested in health tech, if you're interested in robotics and AI or if you're interested in hedging type strategies around gold and silver, then that's what we offer as a platform.
"[For example] a nurse might be more interested in investing in strong health tech companies that provide sustained returns."
What the fees are
Again, this was unclear and will remain that way until launch, but Mr Dunsford said it will be a flat subscription fee.
"It's purely a flat rate and it's completely transparent," he said.
"This gets you access to those for portfolios and subsequent portfolios as we release them over the coming six to 12 months."
How Nine25's micro-investing app compares with the competition
The market is awash with apps targeted at young investors, with catchy names like Blossom and Spaceship. Perhaps the best-known is Raiz (formerly Acorns). Major banks such as CommBank have also entered the market. Here's a brief breakdown of some of the more prominent apps:
Platform

Fees

Minimum investment

Investment options

Raiz Invest

Brokerage: $0

Account fees: Depends on which portfolio you choose. Maximum monthly fee of $5.50 and a 0.275% annual charge for balances over $25,000.

$5

Choose from 9 diversified portfolios with varying risk/growth

Spaceship Voyager

Brokerage: $0

Account fees: $2 per month plus annual management fees of up to 0.50% per year depending on your portfolio

$0

Choose from three portfolios

CommSec Pocket

Brokerage: $2 per trade for investments under $1,000; or 0.2% of trade value for amounts over $1,000

Account fees: $0

$50

Invest directly into 10 different ETFs

Sharesies

Brokerage: 1.9% per trade (capped at $5USD for US shares, $6AUD for Aussie shares and $25NZD for NZ shares)

Account fees: Can pay a $5, $10 or $20 monthly subscription which covers brokerage fees to a certain amount

$0

Invest directly in individual companies around the world as well as ETFS from Oz, NZ and US markets.

Blossom

Brokerage: $0

Account fees: 1% p.a. management fee based on principal amount invested, only paid after 5.75%p.a annual returns

$0

Fixed income focused fund focused on defensive assets.

Pearler

Brokerage: $6.50 transaction fee to buy or sell Aussie shares plus 0.5% conversion fee between AUD and USD

Account fees: $1.70 per month to invest in one fund, $2.30 per month to invest in multiple. 0.5% conversion fee for shares from AUD to USD also applies.

$0

Invest in either Australian or US shares or ETFs under 8 separate themes.

Stake

Brokerage: Up to $30,000 on the ASX-$3AUD per trade, on US markets, $3USD per trade. Trades over $30,000 charged 0.01% for both.

Account fees: 0.7% conversion fee for AUD to USD, with a minimum conversion fee of USD $2.

$500

Invest directly in ASX, US Shares, and ETFs

Douugh

Brokerage: $4.99 for unlimited share trading per 28 days.

Account fees: $2.99 for portfolios over $50 per 28 days.

$1

Choose from 7 diversified portfolios