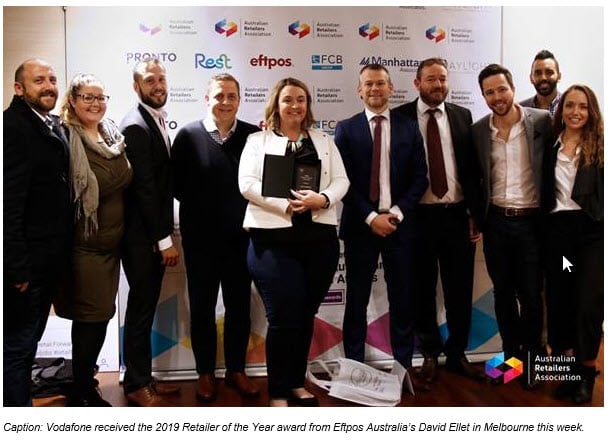 There is a titanic battle playing out right now, behind the scenes, between Australia's big banks, the Morrison government, the Reserve Bank, global credit card schemes Visa and Mastercard as well as tech giants Apple, Google and Samsung.
Prime Minister Scott Morrison is said, by industry insiders, to be privately seething about the actions of Australia's big banks in this epic fight. The Reserve Bank is preparing to aim its regulatory weapons directly at the banks to force them to the negotiating table.
This war is all about how you shop and who gets a cut of your retail dollar.
Just ask yourself:
When was the last time you pressed the CHQ or SAV button at a shop's checkout and entered your PIN to make a purchase?
When was the last time you said: "Yes I would like some cash-out, thanks."
Pressing the CHQ or SAV buttons means you are choosing the Australian payments company eftpos to process your transaction, to debit your cheque or savings account and send the money to the merchant. Pressing the alternative CREDIT button means your payment will be handled by one of the global card schemes, probably Visa or Mastercard.

But pressing buttons is so 'old-skool.'
You probably have got used to using Visa's PayWave or Mastercard's Tap 'N Go contactless payment systems.
Maybe you have loaded your card into your mobile phone wallet and you use Apple Pay, Google Pay or Samsung Pay.
"Australia is a nation of tappers," said Visa Australia's Head of Marketing Jac Phillips.
"94 per cent of Visa's face-to-face transactions are tap to pay."
This challenge to eftpos is not new. Eftpos was launched in 1984 as one of the world's first electronic payment systems and for more than 20 years banks and credit unions have been issuing Visa and Mastercard debit cards in direct competition to eftpos.
But recently mobile phone contactless payments have accelerated the shift from eftpos to the global card schemes and new digital wallets.
Eftpos is falling behind and Australia's government, central bank and retailers are joining forces to save it.
"eftpos make significant contributions to the vitality of the Australian economy," said Russell Zimmerman, Executive Director of the Australian Retailers Association.
Retailers want "to ensure eftpos remains a competitive force within the payments system."
The banks, however, don't seem quite so committed to Australia's eftpos system.
"Contactless payments were first introduced into Australia thirteen years ago," said Mr Zimmerman.
"Since then, major banks have automatically routed contactless debit card transactions through higher-cost processing platforms such as Visa and Mastercard.
"The extra costs have been borne by retailers and merchants," said Mr Zimmerman.
That puts pressure on retailers to raise their prices to cover the extra costs.
Can I still get cash-out through eftpos?
And there is something else at stake here as well. You might not care who processes your transaction but you might care, one night when you need cash, if there is no ATM nearby and the local servo or corner shop says:
"No we don't do cash-out anymore."
Eftpos supports 'cash-out' at the point of sale while Visa, Mastercard, American Express, Apple Pay, Samsung Pay and Google Pay are unlikely to ever offer this functionality. Cash-out is not a cash advance from a credit card, it is a direct withdrawal from a bank account, available at shops everywhere.
Generations of Australians have done their shopping and banking together at the check-out by adding a cash withdrawal to their eftpos purchases. Yes, you can get still get cash-out on eftpos, as long as your local shopkeeper supports it, at any point of sale where eftpos cards are accepted.
That's a good thing because the RBA reports that the numbers of ATMs, bank branches and Bank@Post outlets is declining.
"A fall in the number of ATMs or other cash access points may .... raise public concerns if there were to be a significant decline in coverage that makes it difficult for people to access cash, particularly in regional or remote locations," said RBA researchersLuc Delaney, Aidan O'Hara and Richard Finlay in a research report published in June 2019.
Can I use eftpos on mobile phone?
Eftpos is fighting back, with the support of the RBA and the Morrison government. Eftpos is busy building new functions like mobile phone payments, online payments and Tap N Go payments.
ANZ Bank and Suncorp Bank now let their transaction account customers load their trusty old eftpos debit card into Samsung, Google or Apple mobile phone wallets. So, when you tap your phone in-store to make a payment, eftpos will be the company that moves your money from your account to the retailer's account.
Other banks will soon join these two in offering eftpos transactions in Apple Pay, Samsung Pay and Google Pay.
Buses, trains, trams, ferries, parking metres and vending machines could all soon accept Tap N Go contactless payments from eftpos cards. Visa and Mastercard are already there but 82 per cent of Aussies would prefer not to use credit for transport payments according to a survey of 1500 Australians for eftpos.
Eftpos - Australian made and proud of it
With all this new functionality on the way, eftpos is working hard to keep up with the competition. But it's worth remembering what eftpos is really about. For millions of Aussies who don't have access to a credit card, or even a Visa or Mastercard debit card, eftpos is their way to pay and get cash-out.
And who are those people? 20 per cent of them are young people starting on their financial life journey, 42 per cent are over 50 years old, 51 per cent are renters and 34 per cent are either unemployed or stay at home.
"Our Australian-ness is very important to us," said eftpos chief executive Stephen Benton.
"Being Australian strongly influences the way we operate our daily business - it's who we are and what we do.
"We pay our taxes in Australia and all our transactions are processed here, not offshore."
How secure is eftpos?
Bank and payment system outages and data breaches are becoming more common as technology becomes more complex and hackers target financial institutions, constantly looking for weak points to exploit.
The customers of all four big banks and many other institutions have experienced the inconvenience of bank outages that take ATMs, online banking portals and mobile phone apps offline.
"Our rock-solid platform, with built-in system redundancy, provides stability and security," said Stephen Benton.
"There hasn't been a single eftpos network outage since the current platform launched in 2014."
The chief of the 'Australian Made' campaign, Ben Lazzaro, said eftpos is a fantastic Aussie innovation.
"The organisation should be commended for its commitment to local payments development and providing Australians with best-in-class systems and solutions."
The information contained on this web site is general in nature and does not take into account your personal situation. You should consider whether the information is appropriate to your needs, and where appropriate, seek professional advice from a financial adviser. If you or someone you know is in financial stress, contact the National Debt Helpline on 1800 007 007.