How much can I save with refinancing?
How much can I save by refinancing?
Refinancing your home loan could be one of the best financial decisions you ever make. And refinancing is a usually a lot easier than getting your first home loan.
You already have a house and a mortgage, so you are a step ahead of the first home buyers. If you have 20 per cent equity, you can take advantage of the great deals on offer on 80% LVR loans.
New open banking laws are enforcing customer rights to their own financial data and your right to move your business elsewhere.
And you don't have to give up features like offset and redraw to get great rates under 4 per cent, or even 3 per cent from some online and non-bank lenders.
Calculate your own savings easily with the InfoChoice Refinancing Calculator.
For a borrower with a $500,000 variable rate, 25 year, owner-occupied home loan charging 4.5 per cent, the savings are substantial. Moving to a loan one per cent cheaper (3.5 per cent pa) could slash monthly repayments from $2,779 to $2,503, a reduction of $276. Over 25 years, that borrower could save $82,813.
But there are plenty of home loans charging less than 3.5 per cent and charging less than $2500 per month on a $500K mortgage.
A 3.25 per cent rate on a 25 year $500,000 mortgage requires repayments of about $2,437 per month, depending on fees, terms and conditions.
A 3.0 per cent rate on the same size loan charges $2,371 in monthly repayments according to the InfoChoice Refinancing Calculator.
Have look at some of these great offers available now.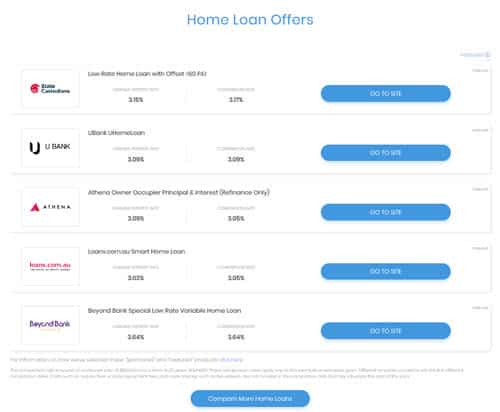 Comparison rate is based on a secured loan of $150,000 over the term of 25 years. WARNING: These comparison rates apply only to the example or examples given. Different amounts and terms will result in different comparison rates. Costs such as redraw fees or early repayment fees, and costs savings such as fee waivers, are not included in the comparison rate but may influence the cost of the loan
Rates are advertised lender's rates and are correct at the time of publishing. Other terms, conditions and fees may apply.
The information contained on this web site is general in nature and does not take into account your personal situation. You should consider whether the information is appropriate to your needs, and where appropriate, seek professional advice from a financial adviser. If you or someone you know is in financial stress, contact the National Debt Helpline on 1800 007 007.