Budget Direct offers Motor, Home & Contents and Travel Insurance as well as Roadside Assistance.
Budget Direct is a market-leading Australian Insurance brand with some of the most competitive premium rates and products in car insurance, home and contents insurance and other types of personal and business insurance.
Budget Direct has been promoting its offering of "Simply Smarter" insurance policies since the year 2000 in Australia. Budget Direct has insured over 1.5 million Australians since then.
Budget Direct is part of the international BHL group of companies headquartered in Britain. In Australia, Budget Direct's headquarters are in Toowong, Queensland.
Globally, the Budget Direct group provides more than 8 million policies to insurance customers and administers over A$3.5 billion in premiums annually.
Budget Direct is a multi-award winning insurer having won Money magazine's Insurer of the Year, for the fourth year in a row for 2020.
Budget Direct's Car Insurance products have also won many awards.
Budget Direct Insurance policies are underwritten by Auto & General Insurance Company Limited, an Australian insurance company regulated by the Australian Prudential Regulation Authority.
Budget Direct is a member of the Insurance Council of Australia.
Budget Direct is a price leader in insurance

Budget Direct says that by asking smarter questions "we avoid subsidising high-risk clients, which means we can pass on great savings to our customers."

Budget Direct promotes its commitment to quality and innovation and says that means "you can get the cover you want at a price you can afford with all the features you'd expect."
Budget Direct has been promoting itself as a price leader in low cost insurance for home and car and has backed this up with competitive rates in all categories.
Budget Direct was Money Magazine's Insurer of the Year in 2017, 2018 and 2019.
In 2020, Budget Direct says it is offering "Award-wining cover for less."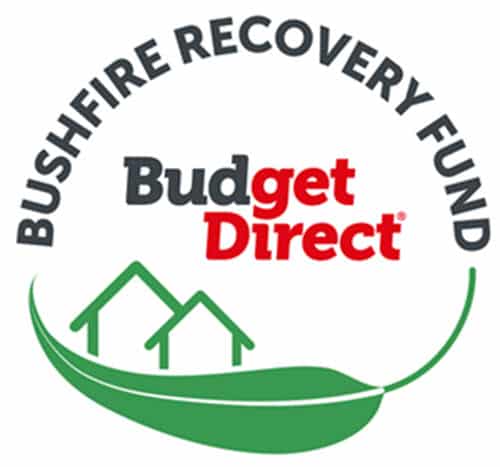 Budget Direct has $20K grants for bushfire recovery
To assist communities affected by the 2019 / 2020 bushfire crisis, Budget Direct has launched a Bushfire Recovery Fund offering grants of up to $20,000 to eligible community groups or organisations.
The grants are for longer-term recovery of community organisations impacted by bushfires to repair or replace damaged facilities and equipment that aren't covered by insurance.
Budget Direct CEO John Myler said the grants are for supporting groups to recover and repair their facilities "where there is a lack of adequate support or insurance cover in place to help with the costs."
Applications for a Budget Direct Bushfire Recovery Fund grant must be submitted online by 5pm AEDT Tuesday, 31 March 2020 using the form available on the Budget Direct website.
Eligibility criteria for Budget Direct's Bushfire Recovery Fund:
To be considered eligible to make an application for a grant you must:
not be an individual.
be a community organisation, volunteer fire service, school, sporting club, or non- government organisation in a bushfire affected area.
need to replace or repair facilities and/or equipment which were lost or damaged by bushfire between 1 July 2019 to 31 January 2020.
not have had the losses covered by insurance and consider the loss is not likely to be covered by insurance;
be able to identify how the facilities are necessary for the benefit of the community;
hold a current Australian bank account.
not use the grant for any political purpose or objective.
Budget Direct is "2020's Insurer of the Year"
Budget Direct has won Money magazine's Insurer of the Year title five times, including the last three years in a row (2017-19).
Budget Direct has also won Money magazine's Best of the Best awards for Cheapest Car Insurance (2019-20).
Additionally, Budget Direct won the award from Money for Cheapest Home & Contents Insurance (2017-20).