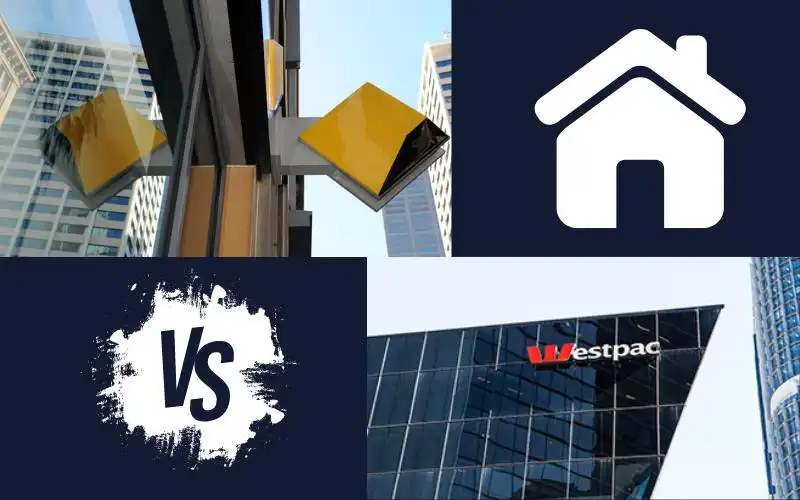 Australia's Big Four banks - Commonwealth Bank, Westpac, ANZ (Australia and New Zealand Bank) and NAB (National Australia Bank) dominate our economy and are most people's go-to providers for transaction and savings accounts, personal loans, credit cards and home loans.
And the biggest banks of all are Commonwealth and Westpac.
How do Westpac and CommBank measure up to each other now?
Westpac is Australia's oldest bank, 201 years old, previously known as the Bank of New South Wales. Commonwealth Bank is over 100 years old and was previously government owned and privatised in 1991.
Since privatisation Commonwealth Bank has overtaken Westpac as Australia's biggest bank measured by loans and deposits under management, customer numbers and market capitalisation.
Westpac is Australia's biggest lender to property investors.
Both Westpac and Commonwealth Bank have recently committed to big changes to their corporate culture and governance after criticism by regulators and the Hayne Royal Commission into banking and finance.
Commonwealth Bank home loan rates vs Westpac home loan rates
Right now, in August 2019, Commonwealth Bank has a featured variable rate with discount margin offer of 3.35 per cent (comparison rate 3.36 per cent pa) for new borrowers to the bank.
Commonwealth Bank Wealth Package 1-year fixed rate (OO, P&I) is currently set at 3.89 per cent pa (comparison rate 4.79 per cent pa).
Refinancers from other lenders may be eligible for Commonwealth's $2,000 cash-back offer until 7 October 2019.
Westpac has a featured two-year fixed Premier Package rate of 3.18 per cent pa (comparison rate 4.0 per cent pa) for owner occupiers.
Westpac's Flexi First Option Home Loan (P&I, OO) is now charging 4.33 per cent pa (comparison rate 4.38 per cent pa).
Additional terms and conditions may apply to all these loans. Variable and fixed loan rates are shifting, as the RBA cuts rates and regulators amend loan rules and guidelines. Keep up to date with rate changes and home loan rates from Australia's big banks and other lenders at InfoChoice.
How to choose between Commonwealth and Westpac
As you can see, Westpac might have a slight edge when it comes to offering competitive loan rates but both banks have a full range of mortgages - from no-frills basic offers to full package deals.
Some Westpac home loans let you package your deal for an annual fee of $395, which ensures you keep an interest rate discount for the duration. You need to do the calculation to make sure that you'll be saving money on interest, though. If you only have a small mortgage then you might be paying more in fees than you save in interest!
Other great Westpac features include the ability to lock in your interest rate for up to five years and also to take a mortgage holiday, although this is subject to eligibility and does have some limits.
CommBank also has some attractive features among its home loans. You can ask about split, to combination, loans. These products involve keeping part of your balance at a fixed rate and some at a variable rate so that you get the best of both worlds.
You can also make overpayments of up to $10,000 each year and face no penalties or adjustment fees with some CommBank loans.
Ultimately, it's up to you
It's a big decision, and once you've been to a comparison site and made your shortlist, you should read through the pros and cons of each product and talk to both providers, as well as your nearest and dearest.
You might decide to go with another lender entirely. NAB, ANZ also have rates and a level of service comparable to Westpac and Commonwealth Bank. Other smaller lenders are clear leaders when it comes to low rates, but may not have the branch network, the services, the package deals and the bells and whistles of the big bank loans.
So it may be worthwhile branching out a little. Or even a lot. Don't forget that Australia has lots of national, regional and online home loan providers to choose from and you might find that your get your best deals with a smaller lender.
The information contained on this web site is general in nature and does not take into account your personal situation. You should consider whether the information is appropriate to your needs, and where appropriate, seek professional advice from a financial adviser. If you or someone you know is in financial stress, contact the National Debt Helpline on 1800 007 007.
Comparison rate is based on a secured loan of $150,000 over the term of 25 years. WARNING: These comparison rates apply only to the example or examples given. Different amounts and terms will result in different comparison rates. Costs such as redraw fees or early repayment fees, and costs savings such as fee waivers, are not included in the comparison rate but may influence the cost of the loan
Notes: Rates are headline rates at the time of publishing, not comparison rates, fees not included. Rates based on owner-occupier, variable rate, principal and interest 25-year, $300,000 loan amount with a package.