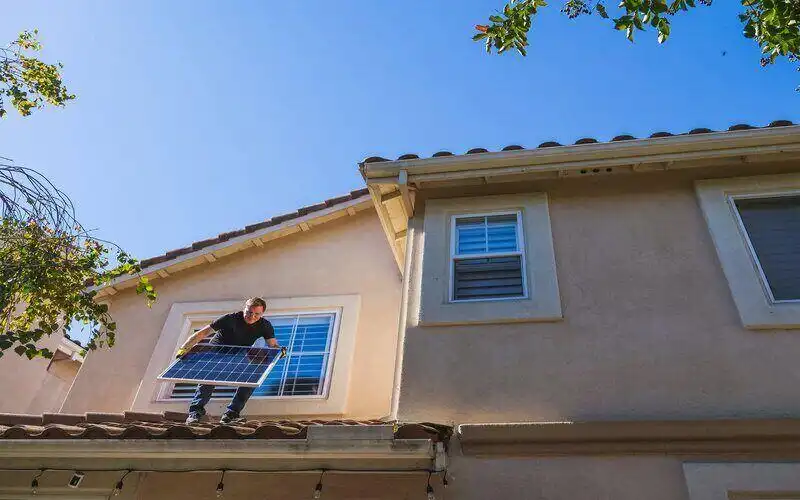 InstalPay is a new CommBank product offering interest free finance plans for renewable energy products at participating merchants.
It allows existing CommBank customers to borrow up to $30,000, which can only be used for a single purchase.
UPowr, the first partner, is an online platform connecting customers looking to install solar and battery systems with providers.
Solar panels and batteries can be bought on UPowr, with rebates included during the process, as well as enlist Clean Energy Council (CEC) accredit installers.
It currently provides services to New South Wales, Victoria, South East Queensland and metropolitan Adelaide.
At checkout, CommBank customers can select InstalPay to apply for an interest free loan to pay.
CommBank Executive General Manager of Consumer Finance, Marcos Meneguzzo, said the bank is expanding its range of green financing options, and the partnership with UPowr is just the beginning.
"We'll be looking to expand our InstalPay offering to new partners and new CBA customers over the coming year," he said.
UPowr CEO Stu Philpot says his company believes in a greener future for every Australian, and that this partnership reinforces the company's mission.
"With this new product, UPowr is committed to offering homeowners a simpler way to manage their energy costs while making the switch to renewables effortless," he said.
How InstalPay will work
To be eligible for a no interest InstalPay loan at the UPower checkout, you'll need to be a CommBank customer with access to the NetBank or CommBank app, an eligible transaction account and satisfy credit assessments.
Customers can borrow between $1,000 and $30,000 through InstalPay, with a loan term between one and five years.
There are no regular account fees, although a late payment fee of $20 applies each time you miss a repayment.
The loan is only for the purchase, with no redraw available, and the terms cannot be extended.
CommBank makes money from InstalPay through the merchant service fee, a percentage of the transaction fee paid to partners that is paid to the bank for facilitating the loan.
CommBank Green Loans
As part of the Net-Zero Banking Alliance, CommBank have committed to action that supports the transition to net zero emissions by 2050.
CommBank Chair Paul O'Malley and CEO Matt Comyn say the bank recognises its responsibility as Australia's largest bank, and is committed to playing its part to support an "inclusive transition" to clean energy.
It already has the Green Home Offer, where home loan customers can pay a lower rate if they build, buy or renovate a home to be more sustainable, climate resilient and energy efficient.
Properties need to meet either the Green Building Council of Australia (GBCA) Green Star Home standard, or fulfill the following criteria:
Nationwide House Energy Rating Scheme (NatHERS) of 7 stars or greater
A heat pump hot water system
A fully electrified home, no gas
A solar photovoltaic system that meets minimum size requirements for the property
Read more: How you could save $450 on energy bills each year
Image by Giorgio Trovato on Unsplash