As a car owner, you no doubt have your compulsory third party(CTP) vehicle insurance, as it's a legal requirement in Australia. However, you've probably also heard of comprehensive car insurance. If you're wondering what it is and whether it's worth paying the extra for it, then read on to find out more.
What is included in comprehensive car insurance?
Comprehensive insurance gives you the most peace of mind and the most cover, as it insures you against pretty much all eventualities. It has lots of inclusions, such as vandalism to your car or to items left in the car, damage caused by weather or natural disaster, as well as covering damage to other people, vehicles and property. Some policies also offer extras, such as windscreen protection and hire cars while your car is in for repairs.
It's best to have comprehensive insurance if your car is fairly new and in good condition. If it's old and has problems like rust, for example, insurers may not offer you this high level of cover.
Choosing the right policy for you
When it comes to comparing car insurance, you need to think about what you need. Ask yourself:
What sort of insurance you need
What, if any, extra benefits you want
If you want to insure the market value or an agreed value, and
What sort of excess you're happy to pay in the event of a claim.
You also need to find out if your no claims bonus will be affected if you're in a your-fault accident, if you have to pay your excess if another named driver is at fault and if you can choose your own repair garage.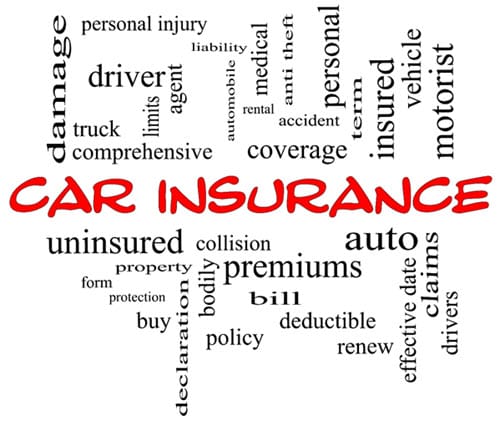 What is excluded from comprehensive car insurance?
Most exclusions from comprehensive car insurance cover are pretty much down to common sense and shouldn't affect you, but some might surprise you. You need to know about them before you buy a policy just in case any apply to you.
Driving under the influence of alcohol or drugs
Of course, you don't drink and drive and no insurer will cover you for an accident caused by this behaviour. However, this exclusion can also apply to prescription drugs, so talk to your doctor and insurer and be 100 per cent honest.
Driving an unroadworthy car
One of your obligations under the policy is to maintain your car so it's safe to drive and roadworthy. This includes maintaining tyres, lights, brakes and repairing any big rust patches.
Making unapproved modifications to your car
Each insurer has different criteria when it comes to mods, but basically, any modification means that you're driving a different vehicle to the one you insured. This includes paintwork, suspension, engine mods and the like. Any changes you make need to be agreed upon and reported to your insurer or any claim may be denied.
Letting a restricted driver behind the wheel
Most insurers give you the option to restrict the age of any named drivers on your policy, usually to a minimum of 25 years old. This is a good way to reduce your premiums, but you need to think about whether a younger person might ever need to drive the car. If they do, and there's an accident, don't expect a payout.
Having an unlicensed or uninsured driver
Most people in Australia know this already. However, people can drive unlicensed or uninsured without realising it, if they're driving a vehicle they're not licensed for or if their insurance has expired. This exclusion also applies to unregistered vehicles, so make sure all your documentation is up to date.
Driving an overloaded car
This doesn't just mean piling all your possessions on the roof! Your vehicle can be considered overloaded if it has more passengers than permitted, or if it's towing or carrying a load it's not designed or permitted. Improperly secured loads could also see claims denied and if you're planning a caravan holiday, check your car's specs with the manufacturer first.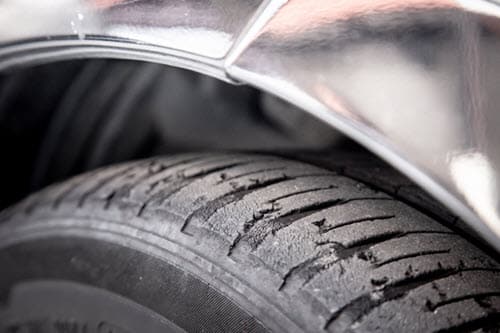 Damaged tyres
The minimum legal tyre tread depth in Australia is 1.5mm, so always replace your tyres before they get to this depth or you may not be covered for an accident, even if you're not at fault.
Wear and tear
Your insurance, no matter how comprehensive, isn't there to cover you for the ageing of your car. It's up to you to maintain your vehicle so that it's less likely to get into the accidents that your insurance is designed for.
Repossession
Not only does this exclusion apply to the vehicle, but to any possessions in the vehicle at the time it was seized.
Breakdowns
Whether mechanical or electrical, your insurer won't pay for the repairs. You may be able to claim on a warranty form the manufacturer, but this is nothing to do with your insurance.
You can add on breakdown cover, which will get you roadside assistance and a hire car.
Motor sports or reckless driving
If you drive your regular vehicle in a road race, a hill-climb or on a racetrack, then you won't be covered. You also will be rejected if you're pulling donuts on your residential street
Hiring out your car
If you decide to lend your car to a friend for money or if you decide to run a taxi service, then you won't be covered in the event of an accident. If you're planning to use your car for monetary gain, then you need to change your insurance for this.
Carpooling is usually covered, but do check.
Missing your premiums
This is another exclusion that should be obvious but is worth mentioning nonetheless. If you don't pay your car insurance premiums on time, your policy will lapse.
It should be a no-brainer, but it can happen if life gets in the way. The best way to maintain your policy is with a direct debit.
You can compare insurers and insurance products at InfoChoice.
InfoChoice compares financial products from 145 banks, credit unions and other financial institutions in Australia. InfoChoice does not compare every product in the market. Some institutions may have a commercial partnership with InfoChoice. Rates are provided by partners and taken from financial institutions websites. We believe all information to be accurate on the date published. InfoChoice strives to update and keep information as accurate as possible.
The products compared in this article are chosen from a range of offers available to us and are not representative of all the products available in the market and influenced by a range of factors including interest rates, product costs and commercial and sponsorship arrangements
The information contained on this web site is general in nature and does not take into account your personal situation. Do not interpret the listing order as an endorsement or recommendation from us. You should consider whether the information is appropriate to your needs, and where appropriate, seek professional advice from a financial adviser. If you or someone you know is in financial stress, contact the National Debt Helpline on 1800 007 007.