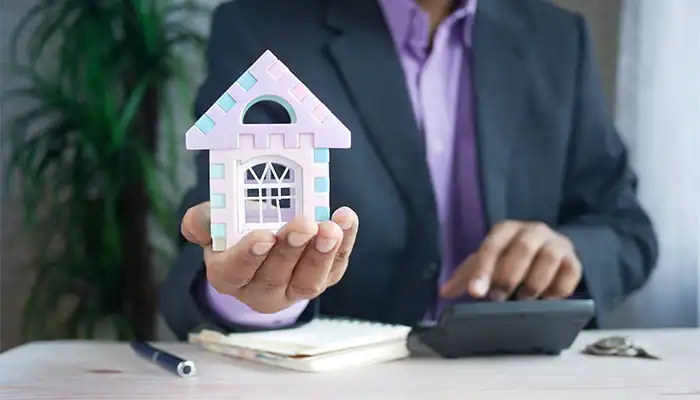 If you're looking to shave off a few dollars from your mortgage each month, then turning to an online lender is a good option for you.
If you want to apply for your loan from your lounge room, then online lenders will be great for you.
If you look at the market offerings, you'll almost certainly find that an online home loan has very good interest rates; you'll also find that there's a wide range of products for different types of borrowers.
Are online mortgages safe?
You might think, when you're looking through the different online lenders, that their brands and names are unfamiliar. This might make you feel uncomfortable. It shouldn't do, because most of these lenders are backed by the bigger banks. Even the smaller ones that are independent are still regulated just like the big banks.
And if a small (or big) lender goes out of business, you are unlikely to lose your home, or your loan. Another bank will buy your loan out.
For example, UBank is a subsidiary of NAB and Tic:Toc, which is a new lender, is backed by Bendigo Bank.
You can even get a paperless mortgage from the big, established lenders like ING.
You should always do your due diligence, though.
If you're looking at an online lender and you want to make sure it's stable and regulated, then look for its Australian Credit Licence (ACL). The lender should display its ACL number at the bottom of the webpage and you can cross-reference this number at the ASIC Connect database.
It's not actually you taking the risk!
When you take out a mortgage, it's actually the lender that's shouldering the risk burden because you might fall behind on payments. This means that the lender has to go to a lot of trouble to recoup the money.
Which online lenders are good to apply to?
UBank has a Discount Offer for Owner Occupiers (P&I, variable, over $200K) with a current interest rate of 3.09 per cent pa.
Loans.com.au is an online lender based in Brisbane and it's backed my Firstmac, the largest non-bank lender in Australia. This lender can offer variable mortgages from as low as 3.05 per cent pa (comparison).
ME (formerly Members Equity Bank) has been going since 1994 and has been transitioning to an online model since 2012. Its Flexible home loan (terms and conditions apply) has a comparison rate of 3.95 per cent pa.
What are the advantages of choosing an online provider over a bigger, "real bank?
Firstly, online lenders are "real; don't forget that they're often backed by or a subsidiary of one of the bigger players. If you're nervous about choosing an online provider then just select one with this traditional sort of backing.
The main advantages of going with an online provider is the lower interest rate and, often, the distinct lack of fees. Online banks and lenders don't have the same overheads as banks with physical branches so they can afford to pass on the savings. Plus, they often can also afford to offer newer, more innovative products to customers; even ones with relatively poor credit histories or newly self-employed borrowers.
Online lenders tend to have very streamlined application processes and user-friendly platforms and interfaces. They also tend to be very tech-focused so they aim to turn applications around in minutes rather than days. This means that you can complete and submit your application from your home rather than having to visit your local branch (which can always wrack the nerves a bit).
Are there any disadvantages to using an online lender?
There are some downsides, yes.
If you're going with one of the smaller independent lenders then you might find that they're unwilling to offer home loans for properties in very rural areas. Isolated properties are seen as being riskier so lots of the smaller lenders simply don't have the expertise or the economy of scale to deal with loans like these.
You may be best off looking at lenders that are backed by bigger banks if you're planning to buy in a remote area.
There's not much of a personal touch
Not everyone is comfortable with a 100 per cent online style of banking. If you prefer to talk to another human, either in person or over the phone, then a digital loan application may not be for you.
Other important information about online lenders
If you're looking for a personal loan rather than a home loan, you can use an online lender for that as well.
Some online lenders also offer low-deposit home loans, sometimes as low as five per cent (95 per cent LVR).
Another benefit is that most online lenders offer salary packaging, which can bring down the cost of your home loan even further.
All of the online lenders in Australia will check your credit file when you make a home loan application. They're bound by the same rules and guidelines as all the other, more "traditional lenders.
If you have a less-than-ideal credit history, then you might be able to find an online lender that's willing to offer you a home loan, especially if you can keep the costs down.
You'll still need to supply all the usual documents when you apply with an online lender, including your birth certificate, your employment details, bank statements and driver's licence. Initially at least you can do this by taking photos on your phone.
You'll also need to provide your contract of sale and certificate of title.
Compare home loans from Australia's online lenders, big banks, other banks, credit unions and non-bank lenders at InfoChoice.
The information contained on this web site is general in nature and does not take into account your personal situation. You should consider whether the information is appropriate to your needs, and where appropriate, seek professional advice from a financial adviser. If you or someone you know is in financial stress, contact the National Debt Helpline on 1800 007 007.
Notes: Rates are headline rates at the time of publishing, not comparison rates, fees not included. Rates based on owner-occupier, variable rate, principal and interest 25-year, $300,000 loan amount with a package.
Comparison rate is based on a secured loan of $150,000 over the term of 25 years.
WARNING: These comparison rates apply only to the example or examples given. Different amounts and terms will result in different comparison rates. Costs such as redraw fees or early repayment fees, and costs savings such as fee waivers, are not included in the comparison rate but may influence the cost of the loan