The Reserve Bank of Australia (RBA) has kept interest rates on hold for the month of December at a historic low of 0.75 per cent.
Reserve Bank board members agreed that further easing of monetary policy could eventuate, however, it will take a wait and see approach as it monitors the effects of previous cash rate cuts.
However, the RBA is caught between a rock and a hard place. Rebounding house prices have potentially undermined further cuts that may have been considered in light of disappointing economic data.
Unemployment is static at 5.3 per cent. Wage growth isn't moving and despite a bumper Black Friday / Cyber Monday, retail sales have slumped to their weakest levels since the 1990s recession.
Despite this, RBA Governor Philip Lowe said "The central scenario is for growth to pick up gradually to around 3 per cent in 2021," he said.
"The low level of interest rates, recent tax cuts, ongoing spending on infrastructure, the upswing in housing prices and a brighter outlook for the resources sector should all support growth."
Australian house prices are rising
According to data from CoreLogic Inc., national property values jumped 1.7 per cent last month.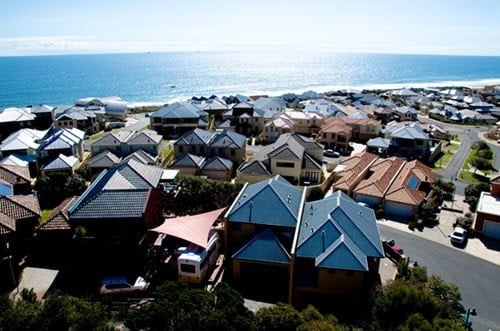 This is the largest gain since 2003, with Sydney and Melbourne leading the way with prices up 2.7 per cent and 2.2 per cent respectively. Brisbane led the other state capitals, moving higher by 0.8 per cent during November.
Perth is also enjoying a recovery, edging 0.4 per cent higher, following a five-year slump after the mining boom ended. Of the capital cities, only Darwin home values fell during the last month, down 1.2 per cent to be down more than 10 per cent for the last 12 months.
Median home values - Australian capital cities (from CoreLogic)
Sydney - $840,072
Melbourne - $666,883
Brisbane - $497,491
Adelaide - $433,845
Perth - $437,080
Hobart - $474,186
Darwin - $388,018
Canberra - $611,841
What is the average Australian home price?
The average home price in Australia can be measured in more than one way. A common measure is the median (middle) house price for state capital cities and a median price for state regional markets.
The median home price for Australian capital cities was $622,346 in November 2019 according to data reported by CoreLogic.
The median home price for Australian regional markets was $380,657 in November 2019.
The average (median) Australian house price was $537,506 in November 2019.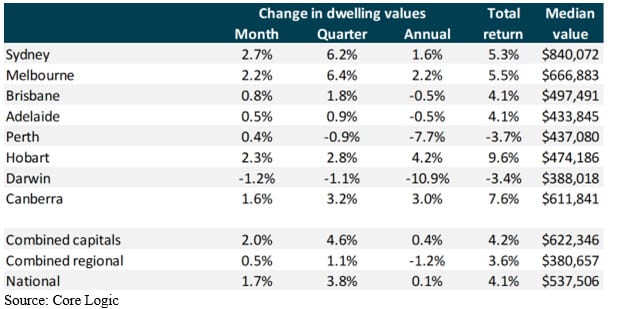 Source: Core Logic
If this trend continues, CoreLogic predicts home values will be back at record highs early next year. Incredibly, annualized gains over the past three months in both cities are tracking in the mid-20% range.
But this growth may not last.
"The Australian housing market is now five months into an unexpected period of rapid recovery," CoreLogic research director Tim Lawless said, "The question is, how long can such a high pace of capital gains be sustained?"
"With selling conditions looking very strong, there is a high probability that listing numbers will show a material lift through the first quarter of 2020, which will test the depth of the market and likely ease some of the urgency that is contributing to higher prices."
With rising prices, it could be a good time for sellers, upscalers or downsizers to break into the market.
And loan rates are particularly low at the moment. Fixed rate deals are being sliced even though the RBA is leaving rates on hold. This could indicate that lenders themselves expecting a long period of low rates.
"Banks, credit unions and other lenders are still slicing rates and adjusting deals," said Vadim Taube, CEO of leading Australian financial comparison site InfoChoice.com.au.
Compare 1800 home loans at InfoChoice.
The products compared in this article are chosen from a range of offers available to us and are not representative of all the products available in the market and influenced by a range of factors including interest rates, product costs and commercial and sponsorship arrangements
InfoChoice compares financial products from 145 banks, credit unions and other financial institutions in Australia. InfoChoice does not compare every product in the market. Some institutions may have a commercial partnership with InfoChoice. Rates are provided by partners and taken from financial institutions websites. We believe all information to be accurate on the date published. InfoChoice strives to update and keep information as accurate as possible.
The information contained on this web site is general in nature and does not take into account your personal situation. Do not interpret the listing order as an endorsement or recommendation from us. You should consider whether the information is appropriate to your needs, and where appropriate, seek professional advice from a financial adviser. If you or someone you know is in financial stress, contact the National Debt Helpline on 1800 007 007.