Who is REALLY getting the better deal?
Aussies love tapping their phone or their card instore or online. And Aussies hate ATM fees for withdrawing their cash from the bank.
So, not surprisingly, Australian consumers have led the world in taking up cashless payments and leaving notes and coins behind. Some journalists have even called for an end to cash on the basis it is -filthy.--
But 76 per cent of Australians do not know how much we spend on bank fees. The average gues by an Aussie as to how much they fork out each year is $328 according to 2019 research released by UBank. But the actual figure is much higher, at $468 according to the Reserve Bank of Australia.
So as more and more Aussies don't cash out their pay at ATMs and spend it via Tap n Go, PayWave or Eftpos, many possibly don't realise how much they paying for the convenience. It could be more than the cost of withdrawing cash ....
Aussies hate ATM fees but ...
-Why should I pay to access my own cash?-- is a common refrain from Australians tired of the big bank fee slug game.
Since 2017, banks have slashed ATM fees and now most ATM transactions in Australia are fee-free. Even cash withdrawals made at ATMs owned by other banks are fee-free. So a Westpac customer can withdraw their cash from an ANZ Bank ATM for free, for example.
Only independent (non-bank) ATM operators now routinely charge cardholders around $2.50 to $2.90 per withdrawal. Some of these ATM machines charge more, especially if they are located in or near hotels, casinos, convenience shops or in remote areas.
But in this rush to the cashless economy, are we really getting a better deal?
Did you know that even if you pay to withdraw your cash from an ATM, you may still end up paying LESS in fees than if you spent the same amount using your card?
When you pay with a credit or debit card in-store the merchant may add a card surcharge to the final bill. Australian retailers are allowed to surcharge customers for the costs associated with accepting card payments but are not permitted to profit from card surcharges.
For Visa and Mastercard credit cards, this is usually around 1.63 per cent.
American Express cards are often surcharged more - up to around 2.0 per cent.
Visa and Mastercard debit cards are often surcharged at around 0.63 per cent.
Eftpos cards may charge the retailer about 20 cents per transaction so for smaller transactions, many retailers may ask for an Eftpos surcharge.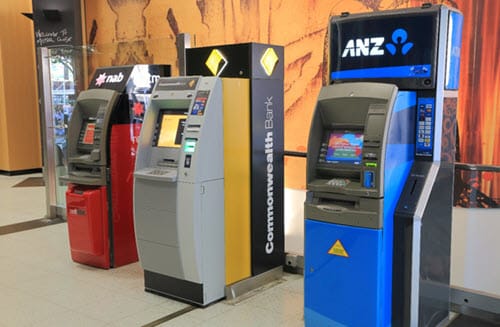 Banks like you tap, tap, tapping away your money ....
When consumers keep their money in their everyday transaction banking account and use their card for spending, the bank gets your money almost interest-free. And banks are increasingly depending on this cheap source of funding to keep their costs down and profits up.
Over the last decade the proportion of bank funding coming directly from deposits has risen from around 40% to over 55% and continues to trend higher. This chart from the RBA January 2020 Chart Pack shows the trend (yellow line).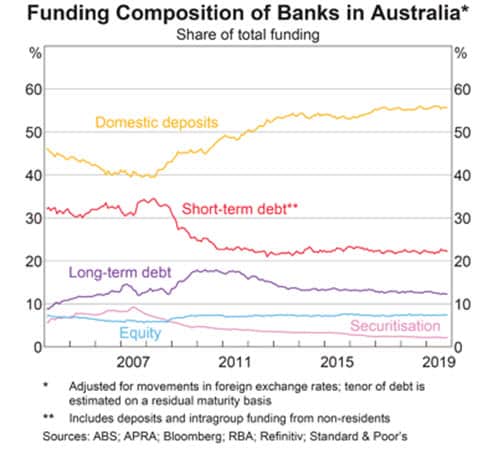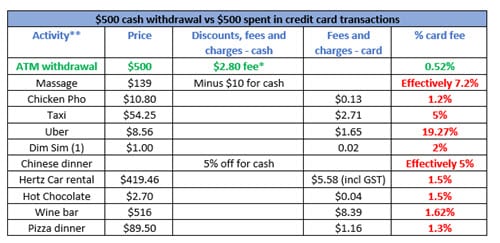 * Based on the average direct charge levied by the Next Payments independent ATM network in October 2019 which was $2.60. The Next Payments average direct charge has increased 9 cents from $2.51 five years ago in October 2014.
Shopping with Cash vs Card vs Phone
Avoiding bank fees is not just about avoiding an expensive ATM. Even if you pay $2.80 in ATM fees to withdraw your cash you might still be better off than the card user.
Avoiding bank fees might now be about avoiding Eftpos and card surcharges levied by retailers and merchants - and that means using cash. Plus, cash attracts discounts as well.
You can compare savings accounts, credit cards, everyday transaction banking accounts and other financial products at InfoChoice, Australia's leading financial comparison website.
This article is not financial advice.
The products compared in this article are chosen from a range of offers available to us and are not representative of all the products available in the market and influenced by a range of factors including interest rates, product costs and commercial and sponsorship arrangements
InfoChoice compares financial products from 145 banks, credit unions and other financial institutions in Australia. InfoChoice does not compare every product in the market. Some institutions may have a commercial partnership with InfoChoice. Rates are provided by partners and taken from financial institutions websites. We believe all information to be accurate on the date published. InfoChoice strives to update and keep information as accurate as possible.
The information contained on this web site is general in nature and does not take into account your personal situation. Do not interpret the listing order as an endorsement or recommendation from us. You should consider whether the information is appropriate to your needs, and where appropriate, seek professional advice from a financial adviser. If you or someone you know is in financial stress, contact the National Debt Helpline on 1800 007 007.