Five best credit cards for Qantas Frequent Flyer Points
If you're a frequent flyer, no matter whether it's for business, leisure or a combination of both, you might be looking for a credit card that offers you the chance to rack up a big old balance of Qantas Frequent Flyer points.
The very best QFF linked credit card for you will be the one that suits your spending pattern and meets your own needs. So InfoChoice has put together a list of five great cards that offer you the chance to earn plenty of QFF points.
How to earn Qantas frequent flyer points
There are two ways in which you can earn points with your credit card to redeem for great rewards.
You can choose a points-earning credit card that's linked directly to the airline.
Or you can opt for one that earns transferable credit card reward points. These reward points are a type of flexible currency that you can use with any other airline later down the line.
Most of the credit cards available in Australia that earn Qantas Frequent Flyer points are co-branded.
At present there's only the Amex Membership Rewards Premium Ascent programme for Amex Platinum Charge and Centurion holders that let you transfer your points to QFF. You can't use any other Amex points to exchange for QFF points.
Will you feel locked into Qantas?
This relative inflexibility might mean that you feel tied to Qantas and its Frequent Flyer programme. You might not mind at all, but then again you might feel a bit trapped, even with the occasional QFF points hack. Sticking with just the one programme can really limit your options, unless you have a few frequent flyer or other reward programmes on the go at once.
While QFF points are valuable in themselves, you might find that reward seats to the more popular destinations can be few and far between or they may be restricted in some way. Qantas can also ask for some high carrier charges when you do redeem your points.
The good news is that QFF has recently made some changes improve seat availability and the ability of QFF members to redeem points for economy class fares.
Beware of the limits on your spending and points
It's a bit of a pain, but lots of credit cards available in Australia do impose limits on the amount you can spend within a month and still earn points at the full rate. Once you reach this limit, you might carry on earning points, but at a significantly reduced rate. Other cards might simply stop awarding any points at all once the monthly limit is reached. If you know that you're a big spender, you should make sure the card you choose doesn't have a limit that's going to, well, limit you.
What else you should be looking for when it comes to frequent flyer credit cards
When you're looking for a great frequent flyer card then there are a few important factors that you should look at and consider before applying.
The points earning rate
This is the points per dollar rate on your card and it dictates how quickly you'll rack up a balance high enough to be worth redeeming. You need 45,000 QFF points for a one–way flight from Sydney to Bangkok, for example.
InfoChoice helps you compare the earn rate of rewards credit cards. When you are on the comparison table page for reward credit cards, click on the column heading "Spend req. for SYD-MEL Ret. Flight" or the column heading "Spend Req. for $100 Reward" to compare the earn rate and value for money proposition being offered by each card.
Your annual fee
If you are a high spender your annual fee won't make much of a difference once your points balance is taken into account. However, if your fee is more than the value of the goods or services you might redeem, then think again and look elsewhere.
Your promotional period and rate
With frequent flyer cards, your promotional period tends to last six months; look at what your interest rate will be after this period ends and work out if it's still worth it.
Any bonus offers or freebies
If your card gives you a significant freebie, like a big lump of points for approved applicants or annual travel insurance or pickup cover, then this might make up for the annual fee and mean you come out in the black at the end of the year.
Five top credit cards for Qantas Frequent Flyer points
1. ANZ Frequent Flyer Platinum
The ANZ Frequent Flyer platinum Visa credit card is currently offering 50,000 free QFF points and $100 cash back to approved applicants when they spend $2,000 during first three months (terms and conditions apply).
2. The Qantas Amex Ultimate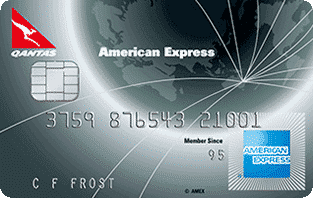 With a Qantas American Express Ultimate card you'll pay a $450 annual fee and earn 1.25 QFF points with each dollar you spend. This card has no monthly spend limit.
3. The Westpac Altitude Black Amex
If you have a Westpac American Express Altitude Black card with a Mastercard bundle, you'll earn 1.25 QFF points for each dollar you spend. There's no monthly spend limit and you'll pay an annual fee of $499.
4. The NAB Qantas Rewards Signature
NAB's Qantas Rewards Signature Visa credit card is currently offering 90,000 bonus points when you spend $2,500 on everyday purchases within 60 days of activating the card (terms and conditions apply). You'll get one QFF point per dollar up to a maximum monthly spend of $5,000. This card has an annual fee of $395.
5. The HSBC Qantas Platinum
HSBC's Platinum Qantas Visa credit card has a very low annual fee, at just $79. However, it also has a fairly low monthly maximum spend of $2,500 and you'll earn one QFF point per dollar.
Compare rewards and QFF linked credit cards at InfoChoice.
The information contained on this web site is general in nature and does not take into account your personal situation. You should consider whether the information is appropriate to your needs, and where appropriate, seek professional advice from a financial adviser. If you or someone you know is in financial stress, contact the National Debt Helpline on 1800 007 007