Trending Financial News 17 January 2020
Two credit cards with 100,000 Velocity points
The NAB Rewards Signature Visa credit card is promoting a 120,000 bonus VFF points giveaway – when you keep the card open for one year and spend at least $3,000 in the first 60 days.
The American Express Velocity Platinum credit card has a purchase interest rate of 20.74% pa and up to 55 days interest-free.
Approved applicants can receive 100,000 bonus Velocity Points when they apply online by 12 February 2020. To qualify for the points, cardholders must spend $3,000 on the Amex Express Velocity Platinum card within the first 3 months.
Read more about the best credit cards for Velocity points at InfoChoice.
Two credit cards with 50,000 Qantas points
The Qantas American Express Ultimate credit card has an earn rate of 1.25 QFF points per dollar spent and is currently promoting a 55,000 bonus Qantas Points giveaway when you apply online, get approved and spend at least $3,000 within the first 3 months.
The American Express Westpac Altitude Platinum card bundle (Qantas Rewards) is a Mastercard and an American Express credit card package. Apply by 31 March and you could get 75,000 bonus QFF or Altitude points (terms and conditions apply).
Read more about the best credit cards for Qantas points at InfoChoice.
P&N Bank customer data hacked
Western Australia's largest mutual bank, P&N Bank, has told its 96,000 customers their data may have been accessed in a computer system breach last month.
On Wednesday, P&N CEO Andrew Hadley said "non-sensitive" data had been accessed as a result of a cyber-attack in December.
Customer information that may have been accessed includes customer names and ages, residential addresses, email addresses, phone numbers, customer numbers, account numbers and account balances.
Mr Hadley said no customer passwords or credit card details had been compromised.
P&N Bank fights off hackers
WA's P&N Bank's customer relationship management computer system was hacked in December with some customer information being leaked, but not account passwords or credit card details.
P&N Bank CEO Andrew Hadley said other customer information such as driver's licence numbers, passport numbers, social security numbers, tax file numbers, birthdays or health data was also not lost in the data breach.
P&N Bank is now working with Western Australian Police and federal authorities to investigate the hack.
"The criminal activity took place around 12th December 2019 during a server upgrade on a third-party company that P&N Bank engages to provide hosting," said Mr Hadley.
The top business credit cards in Australia
The best business credit cards in Australia support the way you do business. You might need a low-cost card with plenty of interest-free days. Or you might benefit from a zero-interest balance transfer deal, or rewards points, travel insurance or frequent flyer points.
The ANZ Bank Business Low Rate Visa credit card has Apple Pay, Google Pay, a purchase interest rate of 12.99% pa and a cash advance rate of 14.49% pa. The NAB Low Rate Business Visa credit card has a purchase interest rate of 13.25% pa, up to 44 days interest-free, an annual of $55 and a zero per cent rate for balances transferred for the first 12 months.
Read more about the top credit cards for business at InfoChoice.
Lending for New Homes falls in November
The Australian Bureau of Statistics reported that lending for the construction of new homes fell in November 2019 by 8.4 per cent to the lowest level since 2012.
"The weakness in construction lending in November is largely a legacy of soft sales volumes that home builders were experiencing during the first half of the year," said Geordan Murray, HIA Senior Economist.
Lending to owner-occupiers purchasing an established home was steady in November 2019, up 0.1 per cent.
Property market "will stabilise during 2020"
Home loan sales for investors increased 2.2 per cent in November 2019 and has risen by around 10 per cent from the low point reached in mid-2019, according to data released yesterday by the Australian Bureau of Statistics.
First home buyer loan sales dipped 0.9 per cent in November. However the number of first home buyer loans approved during the three months to November was 7.3 per cent higher than one year ago, said the Housing Industry Association.
"Stimulus measures, including interest rate cuts, tax cuts and the easing of APRA's lending restrictions are having a positive impact on the housing market," said Geordan Murray, HIA Senior Economist.
"If these conditions remain, the market will stabilise during 2020."
How to win an iPhone 11
You can win a brand-new iPhone 11 worth $1,279, simply by downloading a free property report at InfoChoice.com.au.
An InfoChoice free property report (powered by Australian Property Monitor's PriceFinder service) may contain a price estimate based on the sales history of the property and other recent sales in the immediate area.
This promotion ends soon, on 30 January 2020, so get your InfoChoice property report now – on any property address in Australia. Every person who downloads a property report may be eligible to win this iPhone 11 competition which is free to enter.
NAB slashes savings account rates
National Australia Bank has cut its iSaver savings account rate by 0.15 percentage points to a maximum introductory rate of 1.55 per cent. The maximum bonus rate is paid for the first four months before the rate reverts to the base rate, currently 0.11 per cent pa.
NAB's Reward Saver account is currently paying a maximum bonus rate of 1.50 per cent pa (base rate 0.11% pa) when you make one deposit and no withdrawals during the month.
Read more about the top savings accounts in Australia in January 2020 at InfoChoice. Compare savings accounts at InfoChoice.
Will the RBA cut interest rates in February?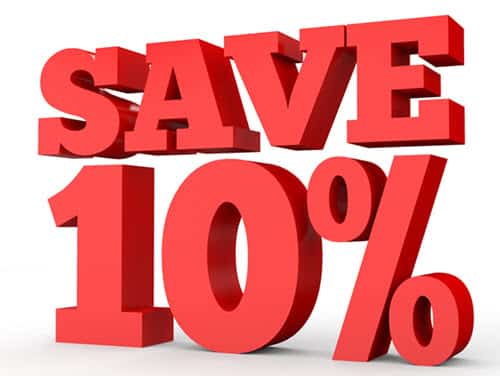 Rates futures markets are still undecided about whether the RBA will cut official interest rates in Australia in February 2020.
However, in recent days, prices are increasingly indicating a growing chance of a cut. Yesterday, rates futures markets had priced in a 56 per cent chance of a February rate cut to 0.50 per cent, up from 42 per cent last Friday.
Bushfires are a factor encouraging the RBA to consider a February rate cut said NAB's head of forex trading, Ray Attrill, who told Guardian Australia he expects the RBA to cut rates to 0.50 per cent. Read more about the outlook for interest rates in 2020 at InfoChoice.