Trending Financial News 3 February 2020
Big banks set to combine ATM fleets
Soon the well-recognised big bank branded ATMs common in all towns and suburbs of Australia will be a thing of the past.
Commonwealth Bank, Westpac, National Australia Bank and ANZ have been negotiating to combine their ATM fleets under one brand and one management system. The move is designed to lower costs and enable the banks to retain a large number of ATMs as cash use declines and the costs of managing ATMs rises, industry newsletter BankingDay.com reported this morning.
The big four banks no longer charge customers withdrawal fees at ATMs. Cash accounts for 13 per cent of all consumer payments in Australia.
Savers are leaving the big four banks for better rates
It's official – Neobanks and other smaller banks are attracting savers away from the big four banks with better rates.
The Australian Prudential Regulatory Authority's monthly banking statistics reveal that Judo Bank had $345 million in household deposits in December 2019, up from $214 million in November and $105 million in October.
86 400 had $99 million of household deposits in December, more than double the amount in October. The big four banks all lost market share in the saving account market.
Compare the big bank savings account rates with other savings account rates at InfoChoice.
Newcastle Permanent paying compo to 18,000 customers
Newcastle Permanent Building Society is paying out a total of $4.2 million to approximately 18,000 customers after overcharging interest on their home loans, Mortgage Business reports.
Newcastle Permanent said in a statement that after undertaking a review of its processes, it identified an "error" resulting in customers' offset transaction accounts not being properly linked to their home loans.
Newcastle Permanent apologised to customers for the error and said it would continue working to determine if other mortgage holders are eligible for remediation.
Latest Bitcoin price shows New Year surge continues
The price of one Bitcoin continues to rise. Over the last seven days, Bitcoin has risen more than 10 per cent to A$14,127 today. Bitcoin has been rising solidly in 2020 after a six month bear run in 2019.
Ethereum is up 15% in the last week to A$282. Keep up to date with the latest news on cryptocurrencies at InfoChoice.
Which bank holds the most deposits?
The biggest Australian bank as measured by the total value of the deposits held is Commonwealth Bank.
Commonwealth Bank's household deposit book totals $264.1 billion. Westpac has $217.1 billion in deposits from Australian households and businesses. ANZ Bank has $123.3 billion and NAB holds $134 billion in deposits.
Total retail bank deposits stood at $929.7 billion in December 2019 according to the Australian Prudential Regulatory Authority.
How to get a loan today

Do you need money fast? Are you looking for a quick personal loan with easy online application process and same-day or very fast funding?
Online lender Harmoney has personal loan rates personalised to your credit score and says it can fund many loans within about 24 hours. Right now, Harmoney rates start from 6.99 per cent pa (comparison rate 7.69 per cent pa).
Other lenders advertise same day funding on personal loans. Read more about fast personal loans at InfoChoice.
How many ATMs are there in Australia?
There are about 28,000 Automatic Teller Machines (ATMs) now operating in Australia. The total number of ATMs in Australia has declined by about 4100 machines since the peak (of more than 32,000) in 2016, the Reserve Bank's Payments System Board (PSB) reported.
The PSB also noted "a continued decline in ATM cash withdrawals."
"Australians made an average of around 23 ATM withdrawals per person in 2018/19, down from 40 in 2008.
"Relative to our population, the size of the ATM network in Australia is still large compared to many other countries."
Banks and credit unions operate 11,560 of Australia's ATMs, according to banking regulator APRA, down 2255 over two years.
Xinja Stash account pays 2.25% pa, no strings attached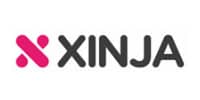 Xinja Bank's Stash Account is currently paying 2.25 per cent per annum on balances up to $245K with no strings.
Unlike most other savings accounts, Xinja's Stash account has:
No intro period
No min deposits / payments
The Xinja Bank account boasts an instant setup via Mobile App, just click here to go to Xinja Bank for an account that pays you interest without strings attached.
Is Xinja a real bank?
Yes, Xinja Bank is a real bank that was granted a banking license by the Australian Prudential Regulatory Authority on 9 September 2019.
Xinja Bank says it is "an independent, 100% digital neobank for Australians. Designed for mobile-made people." Xinja Bank says – "You don't holiday like dad, why do you bank like dad?"
"Everything we do as millennials is different to our parents, but banking is the same."
Read a review of Xinja Bank at InfoChoice and check out Xinja Bank's Stash Account or compare Xinja Stash with other savings and transaction accounts at InfoChoice.
Auction Results for 31 January 2020
Small volumes but solid auction results in Sydney and Melbourne mark the beginning of the new year's auction results from Domain.
Sydney Auction Results for Saturday 31 January 2020
There were 138 residential property auctions held in Sydney on Saturday 31 January 2020. 77 per cent produced a sale for a median sale price of $1,075,000 in preliminary