US President Donald Trump is an unconventional and controversial political leader.
That's not news but what you may not realise is how much influence Mr Trump is having on your personal household finances. Right now, Donald Trump is spooking Australia's central bank governor and world share markets with new tariffs and trade war talk all directed at China.
Critics say Trump is risking a global economic recession. If China's manufacturing and export-led economy slows significantly, Australian mineral exports to China could shrink, putting Aussies out of work.
That's weighing heavily on our chief of interest rate policy, Philip Lowe - the governor of the Reserve Bank.
Dr Lowe is a generally conventional and non-controversial monetary policy leader.
His mandate from government is to do everything within his power to lower unemployment and keep inflation under control. The RBA does this by setting interest rates to either encourage or discourage investment, spending and borrowing. And he's been crystal clear that he won't hesitate to move interest rates to protect Aussie jobs.
In unusually frank comments this week, Philip Lowe admitted to not being at all clear about what is going in Washington and Beijing.
"[Some people in the US] say it's time for 'Team West' to muscle up against China," said Dr Lowe.
"That is very worrying. I do not have a clear idea of what strategy the US has."
But he didn't stop there. The mild-mannered economist jumped straight into the political debate with some sharp words about tariffs.
"No country has made itself wealthy and prosperous through protectionism," said Philip Lowe in speech this week.
And referring to trade barriers (not border walls), Dr Lowe said:
"Building walls actually makes you worse off, we know that.
"If people don't want to invest, growth around the world will be lower and that will affect us here in Australia.
"It is a very significant issue."
If Donald Trump heard those comments from Dr Lowe, he ignored them because the very next day, Wednesday, the President cemented his hardline protectionist credentials with some extraordinary comments.
"I am the chosen one"
"I am the chosen one," President Donald Trump told reporters yesterday when asked why he started a trade war with China.
"China has been ripping us off for many years," said the President.
"President Clinton, President Bush, and President Obama, and others should have done this long before me.
"Somebody had to do it, so I'm taking on China. I am the chosen one."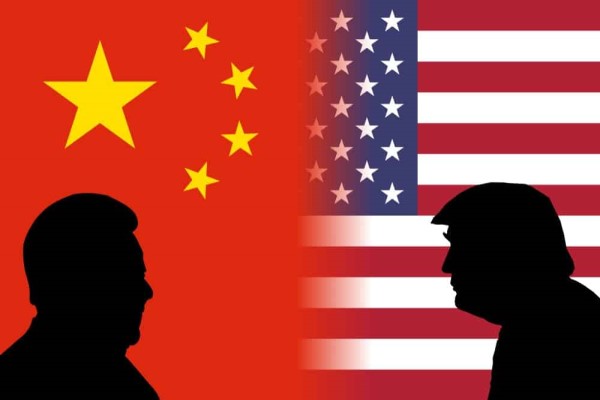 Trump's government has already raised tariffs on Chinese imports (twice) and provided huge taxpayer-funded subsidies to American farmers to combat Chinese retaliatory tariffs introduced recently on US agricultural products.
Markets react to tariffs
Share markets do not like tariffs and trade wars. Recently markets have tumbled as the rhetoric on both sides of the Pacific has heated up.
Australia's S&P/ASX 200 index has fallen close to 200 points to 6,513 points in the last month. Wall Street's Dow Jones index is down 1,000 points to 26,202 over the same period. Hong Kong's Hang Seng index was trading above 30,000 points in April, has lost more than 10 per cent and has slid to around 26,000 today.
And Chinese manufacturing is suffering. Growth in manufactured goods has slowed significantly to a record low annualised rate of 4.5 per cent in July 2019. Manufacturing production in China has averaged 7.44 per cent annual growth rates since 2013, according to Trading Economics.
Volatility on share markets can also impact sentiment and investment. And in the last month, the Australian market, along with others around the world, have been extremely volatile. The ASX's volatility index, the S&P/ASX 200 VIX has spiked in August.

Are interest rates going up or down?
In Australia, interest rates are set independently by the Reserve Bank of Australia board, chaired by Dr Lowe. Rates are set, primarily, to protect Australian jobs and also to keep inflation under control.
The RBA has cut rates in June and July 2019 to historically low settings. The RBA's Overnight Cash Rate (OCR) is now 1.0 per cent. Retail home loan rates are now as low as three per cent or less.
Could the RBA cut interest rates again this year? Or will rates start to rise again soon?
RBA Governor Philip Lowe and his board have signalled that Aussies should expect low rates for some time to come.
"It is reasonable to expect that an extended period of low interest rates will be required in Australia to ... reduce unemployment and [make] progress towards the inflation target," read the RBA Board's August meeting minutes.
While many economists are telling Aussies to expect more rate cuts, they may not arrive immediately. Futures markets have priced in an 89 per cent expectation that the Reserve Bank will leave interest rates unchanged in September. That's up from around 50 per cent early last week, so no one can be completely certain where rates are heading.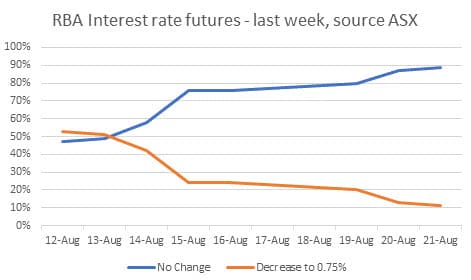 Keep up to date with the latest rate updates and outlook and compare home loan rates at InfoChoice.