Look out Afterpay, Zip, OpenPay, LatitudePay and all the other Buy Now Pay Later apps. Klarna has been launched and is now available for Commonwealth Bank customers and other bank customers as well.
Klarna links to almost any transaction bank account, like the Commonwealth Bank Smart Access account and lets you shop and pay for items in four interest-free instalments.
Is Klarna available for other bank customers?
Yes. Klarna is 50/50 owned (in Australia) by the Commonwealth Bank but Klarna is also available for non-Commonwealth Bank customers. You can download Klarna from the App Store or Google Play and link it to your own account or card.
Commonwealth Bank has partnered with Klarna to ensure that the CommBank app remains the number one banking app said CEO Matt Comyn.
"Our partnership with Klarna will further enhance the customer experience in our leading banking app and address the rapidly growing demand among consumers for new payment options.
Commonwealth Bank has invested US$300 million into buying shares in the Klarna Group and owns 5.5% of the total shares on issue. In Australia, Klarna is a 50/50 venture between CommBank and Klarna.
Commonwealth Bank customers: Don't go to the App Store and download Klarna!
Commonwealth Bank customers who use the CommBank app (and there are almost 6 million Australians doing that right now), get the red carpet, concierge treatment when getting into Klarna.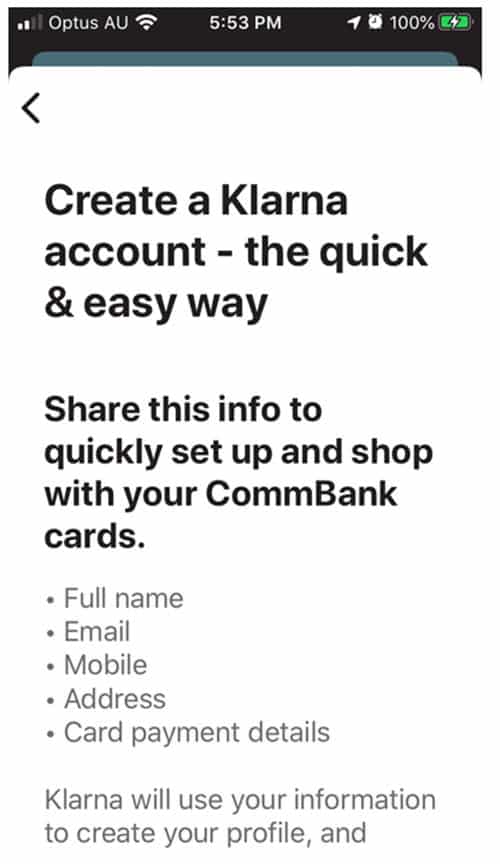 So don't go straight to the Apple App Store or Google Play and download Klarna. There is a better way of doing it. To launch Klarna with a bang, Klarna has sent emails to Commbank app customers.
You may have received an email with a link that expires in two hours. Click on the link and almost all your details are pre-populated in to your new Klarna account.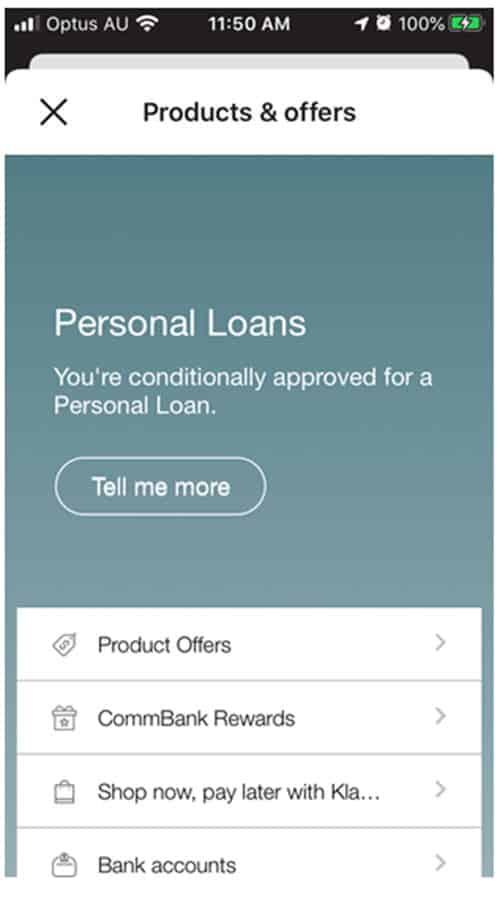 HOWEVER, like many other bank customers, you may be rightly suspicious of links in emails. Here's how to easily get a new Klarna account quickly. Very quick.
(We were shopping with Klarna in less than 5 minutes).
1. Go to the Commbank app
2. Click on "Shop now, pay later with Klarna"
3. Keep following the instructions
4. The Commbank app takes you back to the app store / Google Play, downloads Klarna with your account pre-loaded.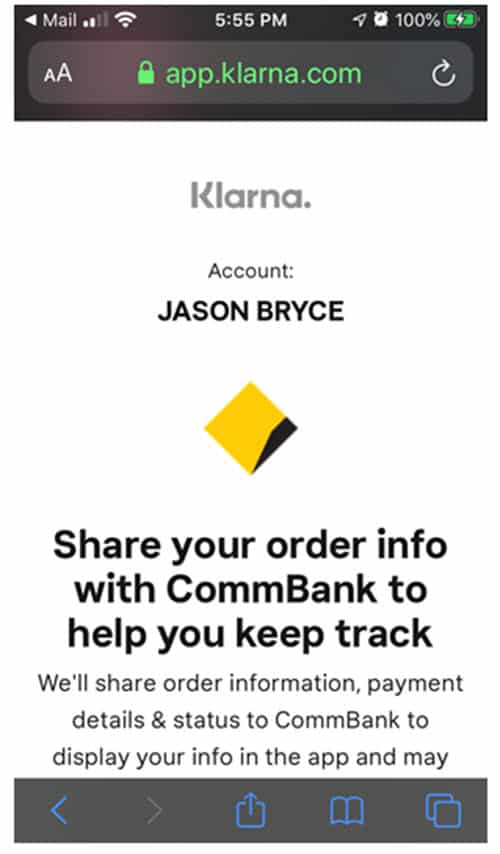 PICTURE ABOVE: Under "Products and Offers" you will get a personal loan offer. Look down for a button labelled "Buy now pay later with Kla..."
CBA customers can quickly register with Klarna and begin shopping at any online store. Some stores are featured on klarna. Klarna installs a Buy with Klarna bar at the bottom of your phone screen when using the app for shopping. Purchased items show up in the CommBank app.
Customers need to agree to link Klarna to CommBank to get the best out of the experience. Purchases show up in your account quickly, the app gives you notifications and you get access to deals!
Purchases made with Klarna linked to CommBank have the cash transferred quickly, not in 1 - 3 business days, which the time Klarna says it takes for most other bank transfers to Klarna. That means you get your shopping sooner (possibly) and payment dates may be easier to keep a track of. Klarna sends reminders when payments are due.
What is Klarna?
Klarna is a Buy Now Pay Later app that allows you to purchase and receive goods or services and pay for it in four instalments.
Like Afterpay, Zip, Openpay, LatitudePay and many other buy now pay later apps, Klarna is providing consumers with an alternative to credit cards.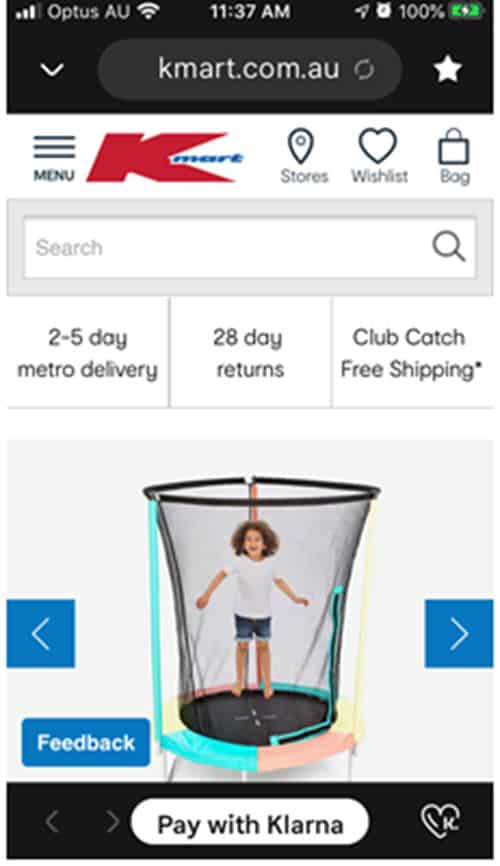 Where can I use Klarna?
You can use Klarna at any online store. Klarna features retailers like Kmart, Iconic, H&M, Gemini Appliances and many others.
Klarna has entered an agreement with Australia Post to offer Klarna through its network of retail merchants and small businesses who use its payment gateway SecurePay eCommerce.
So Klarna is set to become very big in Australia.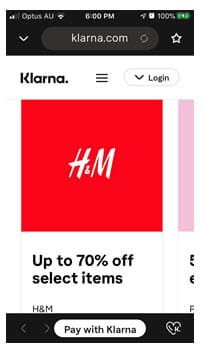 Klarna is one of the world's biggest payments and shopping apps with more than 85 million customers mainly in Europe where 200,000 merchants support Klarna.
In Australia, Klarna can be used by anyone, linked to any bank account and is available to pay for purchases at any online store.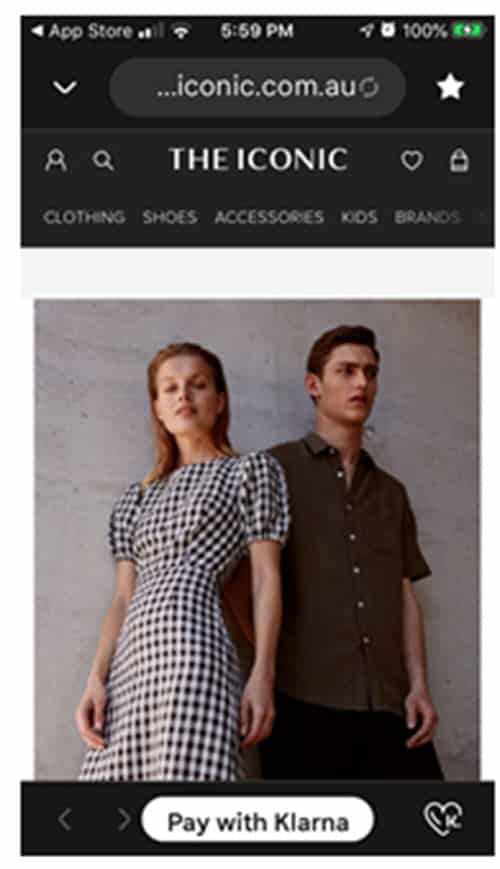 Commonwealth Bank says "5.6 million customers use the CommBank app" and these people are getting the best Klarna experience.
Klarna purchases show up quickly in the CommBank app and Commbank customers can take up plenty of current discounts and offers from retailers featured on the Klarna app. CommBank promises price drop notifications and special notifications, if you like that kind of thing ....
CBA Chief Executive Officer Matt Comyn told the media that:
"By partnering with Klarna, we are bringing together our market leading digital technology, merchant relationships and strong customer network with Klarna's innovative payments technology and integrated shopping experience for the benefit of CBA customers and many more Australian consumers."
Klarna CEO Sebastian Siemiatkowski said: "This is an exciting day for Klarna, CBA and Australia.
"We have already developed a strong working relationship with CBA and we look forward to providing even more opportunities together for our customers in the coming months and years."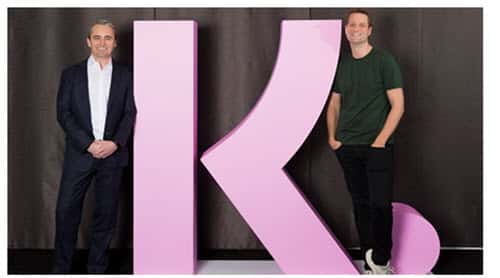 Picture: CBA Chief Executive Officer Matt Comyn and Sebastian Siemiatkowski, CEO of Klarna
Can children (under 18) get Klarna?
No. You have to be 18 years of age to get a Klarna account.
What fees does Klarna charge?
Does Klarna charge fees? Klarna says it may charge late fees, although you will get notifications and may get second chances to have money in your account and ready to be debited, before this happens.
Shoppers can use Klarna without paying any fees or interest payments, if they use it responsibly and make all payments on time.
There is NO ANNUAL FEE for a Klarna account.
Does Klarna do a credit check on me?
YES - Klarna may do a credit check on you when you first make a purchase. Particularly larger purchases.
Can I return items bought with Klarna?
YES. Log in to the Klarna app. Go to the Shopping tab and select the purchase from the list of all your Klarna purchases, and click on "Report a return" .
Can I get Klarna?
If you are over 18 with an Australian bank account you can download the app and apply for a Klarna account. Klarna can not be used with pre-paid cards. Klarna may refuse to link to some cards, including some credit and charge cards.
Generally however, anyone over 18 can get Klarna.
Compare bank accounts that support Klarna at InfoChoice.
Compare Commonwealth Bank account interest rates and fees at InfoChoice.
This article is intended as general news and information. This article is not financial advice. The products compared in this article are chosen from a range of offers available to us and are not representative of all the products available in the market and influenced by a range of factors including interest rates, product costs and commercial and sponsorship arrangements
InfoChoice compares financial products from 145 banks, credit unions and other financial institutions in Australia. InfoChoice does not compare every product in the market. Some institutions may have a commercial partnership with InfoChoice. Rates are provided by partners and taken from financial institutions websites. We believe all information to be accurate on the date published. InfoChoice strives to update and keep information as accurate as possible.
The information contained on this web site is general in nature and does not take into account your personal situation. Do not interpret the listing order as an endorsement or recommendation from us. You should consider whether the information is appropriate to your needs, and where appropriate, seek professional advice from a financial adviser. If you or someone you know is in financial stress, contact the National Debt Helpline on 1800 007 007.