Everything you need to know about Australia's Big Four Banks
When it comes to defining the Australian banking system, there are four banks that stand out – the big four.
These big four Australian banks consist of the Commonwealth Bank of Australia (CBA), Westpac Banking Corporation, National Australia Bank (NAB) and ANZ.
These banks work with the central bank and government to support the economy by maintaining credit growth and ensuring the financial system works efficiently.
COVID-19 has had an impact on banking profits, however the banks have identified opportunities to transform banking, with a focus on productivity and digitalisation.
With that in mind, let's take a look at the commonalities and differences between the banks and what they may offer you now and into the future that may help you decide which bank (no pun intended) best suits your needs.
Who are the big 4
Westpac Banking Corporation (the oldest bank in Australia), National Australia Bank (NAB), Commonwealth Bank (CommBank – the largest bank in Australia) and ANZ Banking Corporation are collectively known as the Big Four.
Why?
Well, they're the biggest banks in Australia.
What the big 4 banks offer
Each bank offers a range of transaction accounts, savings accounts, term deposit rates, loans and credit card options.
In terms of loans, the big four hold the majority of the market share, with the other 49 Australian banks trailing well behind.
Given their dominance in the loan space, they are seen as the safest banks to hold accounts with. Of course, all Australian banks are covered by the Government Guarantee, insuring your savings up to $250,000 per person, per institution should there be a financial crisis, so there is no real reason to feel unsafe with any other bank.
Each of the big four banks have Internet and mobile access. User experience does differ, so if this is a high priority for you, it would be worth checking out the apps to see how they best suit your needs.
CommBank's NetBank is highly regarded. InfoChoice comprehensively reviewed the app last year. CommBank also has the largest ATM network in Australia. In contrast, if you travel overseas on a regular basis and need access to your cash while travelling (something you can't do at the moment), Westpac allows you to access more than 50,000 global ATMs fee-free through the Global ATM Alliance.
Interest rates on savings and loans products vary between each bank and each product. If considering a place to stash your cash, a personal loan or mortgage, it is worth comparing these products.
Take variable home loans for instance, Westpac offer a Flexi First Option Home Loan (Promo) – Principal & Interest (LVR up to 70%). The variable rate is 2.69% (comparison rate 2.70%). The
NAB Base Variable Rate Home Loan – Principal and Interest Special Offer LVR 80% has a variable rate of 2.69% (comparison rate 2.69%). The ANZ Simplicity PLUS P&I Special Offer (LVR not >80%) has a variable rate of 2.72% (comparison rate 2.76%). The Commonwealth's Extra Home Loan LVR <=70% (P&I) offers a variable rate of 2.79% (comparison rate 2.80%).
This is how they compare to InfoChoice's featured Home Loans: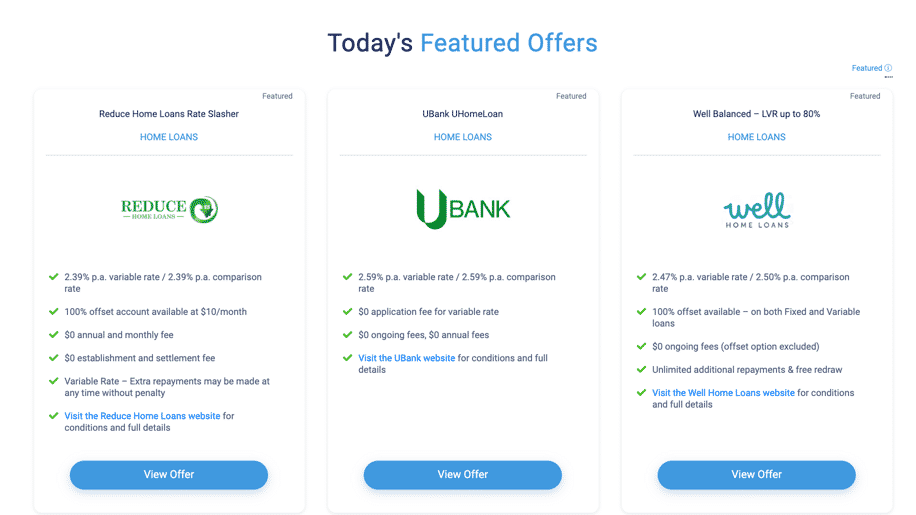 As you can see, each bank offers a different rate, with different advantages.
Interestingly, the big four delivered aggregate housing loan growth of 1.5% for 1H20 compared to 1H19. Loan growth was underpinned by sustained growth in house prices, particularly in Sydney and Melbourne. These markets delivered double-digit growth over the 12 months to March 2020.
Due to COVID-19, the slowing housing market has seen banks become more cautious in assessing new loans, leading to tighter credit conditions, so make sure you compare properly and determine what you can afford.
Any comparison you make, should be made with your personal financial circumstances in mind. So determine what kind of mortgage suits including low interest, no fee, variable or fixed, or what kind of savings account you require including a high interest savings account or a low-fee everyday transaction account.
<