Which bank is greenest?
Are you concerned that the planet is warming and some politicians are really not responding with appropriate urgency?
Are you concerned that banks and other financial institutions are still investing in fossil fuels, carbon-intensive, polluting industries and not enough is being done to create a cleaner, greener world for our children?
Well you might be pleased to discover that the banks have been told to get serious about climate change and they are responding with new 'green' financial products.
Aussies are implementing a Green New Deal on their own banking
So you can act now, for the good of the planet, with your own personal banking, to choose green financial products like home loans, savings accounts, term deposits and credit cards that don't just take, but give back to Mother Earth.
And that will be good for your social, ethical and environmental conscience, as well as your bank balance, because many of these green banking products will save you cold hard cash!
Banks told to act now on the environment
Aussie politicians might not be able to act decisively to lower carbon emissions but the banking industry regulator, the Australian Prudential Regulation Authority, is firmly telling Aussie banks to act now or else.
"We expect to see continuous improvement in how [financial institutions] are preparing for the transition to the low-carbon economy," said APRA executive board member Geoff Summerhayes.
Australian banks rate climate change, not economic recessions, as the number one long-term financial risk for Australia according to an APRA survey last year. Geoff Summerhayes said APRA expects banks to help protect the economy from climate risk.
And the banks and credit unions are responding with innovative new 'green' loans, cards and accounts. Mother Nature will say thank you for checking out these green banking products:
1) Commonwealth Bank Green Mortgage Initiative
The biggest bank in Australia, Commonwealth bank has jumped on the green bandwagon, with a rewards scheme for energy efficient homes. CBA's Green Mortgage initiative will give $500 to homeowners with a CBA mortgage who install certified solar panels.
Commonwealth Bank executive Daniel Huggins said: "Our home loan customers could reduce their energy volume and usage and pay less or become net positive for energy by investing in energy efficient devices."
"We want to support more of our customers who wish to install small scale renewables by reducing their installation costs and payback periods."
CBA's Green Mortgage initiative is due to be formally launched soon. The bank said customers with solar panels already installed "are encouraged to take advantage of the incentive."
You can compare Commonwealth Bank home loans with home loans from other Australian banks and credit unions at InfoChoice.
2) Bendigo Bank Green Home Loan
Bendigo Bank has a Green Home Loan scheme that offers new and existing owner-occupier borrowers up to 1.10 percentage points off Bendigo's standard variable rate (and no monthly fees) if they meet certain green criteria.
To qualify for the discount, borrowers meet Bendigo's 'green criteria.' That includes installing items like double window glazing, solar hot water or solar roof panels, insulation and water storage. Bendigo will even consider funding alternative power sources such as wind turbines and micro-hydro-electric turbine systems.
Bendigo's Green Home Loan is currently charging a variable interest rate of 4.88 per cent pa (comparison rate 4.94 per cent).
3) Bank Australia's Car Loan
Bank Australia's car loan currently charges a headline interest rate of 6.45 per cent p.a. (comparison rate 6.66 per cent p.a.) with an application fee of $150.
But if you choose an electric, hybrid or low emission vehicle, Bank Australia will waive the application fee and charge you just 5.45 per cent pa (comparison rate 5.45 per cent).
PLUS, Bank Australia will purchase enough carbon offsets to compensate for the emissions from your car, each year the loan is active.
Compare Bank Australia's secured car loan with other car loans from banks and credit unions in Australia at InfoChoice.
4) Bendigo Bank Green Personal Loan
Bendigo's unsecured green personal loan is "perfect for solar power systems, solar hot water, grey water treatment systems or top energy-saving white goods," says Bendigo Bank. This loan features a one per cent lower headline rate than the standard Bendigo unsecured personal loan.
Right now, the Unsecured Bendigo Green Personal Loan is charging a fixed interest rate of 11.79 per cent p.a. (comparison rate 12.84 per cent p.a.) for minimum loan amounts of $2,000 over terms of 1 - 7 years. There are no fixed break costs and an early repayment fee of $20.
You can compare the Bendigo Green Unsecured Personal Loan with other unsecured personal loans at InfoChoice.
5) UBank's Green Term Deposits
National Australia Bank owned UBank is marketing "the world's first green term deposit."
How can a term deposit be 'green?'UBank says that when you invest your money (minimum $1,000) into one of its Green Term Deposits, NAB will invest an equal amount into projects and assets that are eligible for certification by the Climate Bonds Initiative (CBI).
These are projects like wind and solar power generation, marine renewable energy, low carbon transport and low carbon commercial buildings.
UBank Green Term Deposits are currently offering up to 2.25 per cent pa (or 2.35 per cent with UBank's loyalty bonus for rolled over term deposits) for 11 month terms.
You can compare UBank's term deposit rates with other term deposits from Australian banks, credit unions and building societies with confidence at InfoChoice.
Which bank is the 'greenest' bank in Australia?
Many banks promote their environmental credentials from time to time, but it's only fair to highlight the one Aussie bank that is going all the way, claiming to have totally clean money.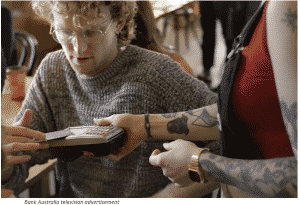 Bank Australia has adopted a Responsible Lending Policy and is the first bank in Australia to have its deposit and home lending products certified 'responsible' by the Responsible Investment Association of Australasia.
"Our money is 'clean' because it doesn't lend to industries that cause harm," said Fiona Nixon, Bank Australia's head of corporate affairs and marketing.
"Like those in the business of coal, nuclear weapons, gambling, tobacco or live animal export.
"We believe it's important to use our customers' money in responsible ways; investing in projects like community renewable energy, disability housing and safe and sustainable housing."
Bank Australia's home loan rates currently start at 3.44 per cent (comparison rate 3.80 per cent) for a Premium Home Loan Package, making it one of the most competitive home lenders in Australia. You can compare this rate with the rest of the market at InfoChoice.
The great thing about all these green initiatives from Aussie banks is that they may SAVE you cash.
Your concern about climate change, pollution and the destruction of our natural environment doesn't mean you have to spend more to take action, like green power schemes. These green banking schemes could save you money. You can check the savings for yourself by comparing loans, accounts and cards from banks and credit unions at Infochoice.
The information contained on this web site is general in nature and does not take into account your personal situation. You should consider whether the information is appropriate to your needs, and where appropriate, seek professional advice from a financial adviser. If you or someone you know is in financial stress, contact the National Debt Helpline on 1800 007 007.