Best Velocity Frequent Flyer credit card deal in February
What you need to know about VFF points
A Velocity linked credit card earns Virgin Velocity Frequent Flyer points for every dollar you spend with it on eligible purchases, either directly or rewards points in a scheme run by the bank. You can transfer these rewards points to a linked Virgin Velocity FF account.
Check out the InfoChoice Guide to VFF and when you're comparing VFF credit cards look for these things:
How are the VFF points earned?
What counts as an eligible purchase for VFF?
The VFF points earn rate
The credit card annual fee
The purchase and cash advance interest rates
The interest–free days
Complimentary travel insurance?
Special flight offers
Lounge passes
Bonus VFF points?
To help you to find the best Velocity frequent flyer card for you, here are four top credit cards that can earn you thousands of VFF points.
The Virgin Australia Velocity High Flyer Visa credit card offers new card holders the chance to earn 100,000 bonus VFF points if they spend $3,000 a month in the first three months.
You can earn 25,000 points per month, plus an extra 25,000 on the first anniversary of opening the card. The purchase rate on this card is 20.74 per cent p.a. and there's an annual fee of $289 with an earn rate of one point per dollar.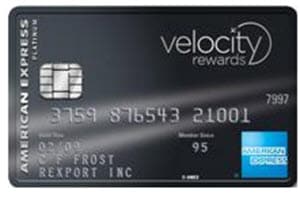 The American Express Velocity Platinum credit card also offers 100,000 bonus VFF points if you apply before February 12 2020 and spend $3,000 in the first three months.
Your basic earn rate is 1.25 points per dollar but this can go up to 2.25 with some purchases. The interest rate is 20.74 per cent p.a. and the annual fee is $375.
The ANZ Rewards Travel Adventures Visa credit card offers a bonus of 40,000 Reward Points, when you spend $1,000 on eligible purchases in the first three months from approval and you'll earn 1.5 points per dollar spent. Your purchase rate is 20.24 per cent p.a. and there's a total annual fee of $120 which includes a $65 annual account fee and a $55 rewards program services fee.
The Virgin Australia Velocity Flyer Visa credit card has a 0% p.a. rate for 22 months on balance transfers (reverts to the cash advance rate which is currently 20.99% pa). This card offers a VFF points earn rate of 3 additional bonus Velocity Points per $1 spent on your everyday spend in the first 3 months, capped at 10,000 VFF Points per month. Purchase interest rate is 20.74 per cent pa with up to 55 days interest free.
Compare credit cards from Australia's major banks, credit unions and other credit card issuers at InfoChoice.
The products compared in this article are chosen from a range of offers available to us and are not representative of all the products available in the market and influenced by a range of factors including interest rates, product costs and commercial and sponsorship arrangements
InfoChoice compares financial products from 145 banks, credit unions and other financial institutions in Australia. InfoChoice does not compare every product in the market. Some institutions may have a commercial partnership with InfoChoice. Rates are provided by partners and taken from financial institutions websites. We believe all information to be accurate on the date published. InfoChoice strives to update and keep information as accurate as possible.
The information contained on this web site is general in nature and does not take into account your personal situation. Do not interpret the listing order as an endorsement or recommendation from us. You should consider whether the information is appropriate to your needs, and where appropriate, seek professional advice from a financial adviser. If you or someone you know is in financial stress, contact the National Debt Helpline on 1800 007 007.