InfoChoice Review of ME
ME is a largely online bank headquartered in Melbourne with a handful of branches in other capital cities in Australia. ME started life as Super Members Home Loans in 1994, a joint venture between the Australian Council of Trade Unions and National Mutual (now AXA).
By 1999, SMHL had well over $1 billion in loans issued. AXA and 26 industry superannuation funds rebranded the business in 2000 to become Members Equity Bank with a full suite of loans and accounts for customers. In 2009, the bank was renamed ME Bank then simply ME in 2015.
AXA sold out of the bank early on and ME is 100 per cent owned by industry superannuation funds.
Is ME a bank?
ME is a bank. Its full name is Members Equity Bank and the business is 100 per cent owned by industry superannuation funds. ME says:
"We were created to help everyday Australians own their own home. These days we are a fully-fledged bank. We help Australians get ahead.
"We give you ways to get more from your savings, pay less on loans and cut down on fees.
"We believe banking should be as simple as possible. You should not have to wade through jargon to find what you need.
Opening an account should be easy."
ME also provides educational resources to improve the financial capability and knowledge of customers.
"Financial know-how doesn't always come naturally.
"We give you tools to spend wiser and save smarter: things like our online school of money 'ed', which is fast, free and simple to use."
You can see and compare all of ME's loan, account and term deposit rates at InfoChoice.
ME home loan rates
ME's lowest home loan rate is currently 2.88 per cent pa (comparison rate 3.76 per cent pa) on two-year fixed rates for owner occupiers.
ME's Flexible Home Loan with Member Package (OO, P&I, max LVR = 80%) has a variable home loan rate set at 3.14 per cent pa in December 2019 (comparison rate 3.58 per cent pa).
Compare ME with other home loans at InfoChoice
ME personal loan rates
ME's Personal Loan has a fixed rate set at 10.98 per cent pa (comparison rate from 11.14 per cent pa, depending on loan term). This loan has no early exit fees and a maximum loan term of seven years.
Compare ME rates with other personal loans.
ME credit card rates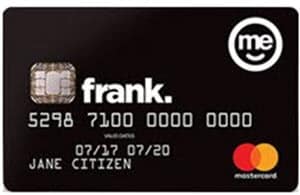 The ME frank Mastercard credit card charges 11.99 per cent pa on purchases after up to 55 days interest-free. There is no annual fee on this card and the cash advance rate is also 11.99 per cent pa.
Compare ME credit cards with other credit cards.
ME savings rates
The ME Online Savings Account with ongoing bonus has a current maximum bonus interest rate of 2.05 per cent pa and a base rate of 0.35 per cent pa. To qualify for the bonus interest rate, you must have a linked ME Everyday Transaction Account and make at least four Tap & go purchases with your debit Mastercard within the month.
ME's highest term deposit rate right now (in December 2019) is 1.70 per cent pa on an eight month term.
Compare ME savings rates with other savings accounts and other term deposits in Australia.
The products compared in this article are chosen from a range of offers available to us and are not representative of all the products available in the market and influenced by a range of factors including interest rates, product costs and commercial and sponsorship arrangements
InfoChoice compares financial products from 145 banks, credit unions and other financial institutions in Australia. InfoChoice does not compare every product in the market. Some institutions may have a commercial partnership with InfoChoice. Rates are provided by partners and taken from financial institutions websites. We believe all information to be accurate on the date published. InfoChoice strives to update and keep information as accurate as possible.
The information contained on this web site is general in nature and does not take into account your personal situation. Do not interpret the listing order as an endorsement or recommendation from us. You should consider whether the information is appropriate to your needs, and where appropriate, seek professional advice from a financial adviser. If you or someone you know is in financial stress, contact the National Debt Helpline on 1800 007 007.