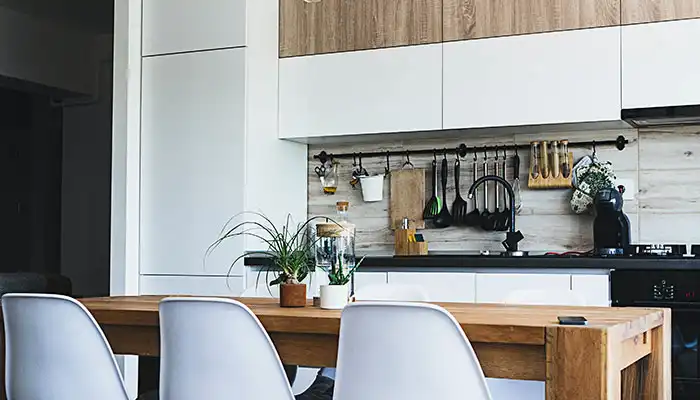 If you're in the market for a new house you'll spend a lot of your spare time attending open homes. Open house inspections are a chance for potential buyers to not only have a look at a potential new home, but to ask questions to get an understanding of the house and its history, and get a feel for the neighbourhood.
Whether you're attending your first open home or your hundredth, it helps to know what you're looking for. To help you avoid buying a money pit, we've compiled a list of things to look out for while you look for the right property.
Ten things to ask the real estate agent at an open home
1. Has there been a building and pest inspection completed?
Some agents will ask their vendor to conduct a building and pest inspection prior to going onto the market. An extension of this can also be a drainage inspection.
This means that anything that may seem questionable to a potential buyer can be clearly outlined in the report i.e. whether it's structural damage or cosmetic. After all, you want to protect yourself from being sold a 'lemon.'
Sellers are also required to disclose any structural or code issues they know exist on the property, so be sure to request an official seller's disclosure from the listing agent.
Also ask the agent if the property has a history of mould and about the age, location, and condition of the hot water pump or the water tanks. And don't be shy about looking under the sinks or at the toilet to get an idea as to the age of the plumbing.
2. What are the reasons for selling?
It's also wise to ask the real estate agent why the house is being sold. The owners may be outgrowing their home, downsizing, or moving to another location close to family.
However, there may be other underlying reasons which could be a red flag. For instance, there may be a large development occurring in the near future which could affect traffic congestion, noise, or even obstruct your view.
One that may play into your hands is if it's a forced sale - be it a divorce, deceased estate or financial circumstances. This might give you leverage when it comes time to negotiate the price, or keep your cards close to your chest at auction time in case it passes in.
While you may not get a completely honest answer, there is no harm in asking.
This information, along with how long the property has been on the market, will give you a good indication of the seller's time frame. Are they in a rush to make a sale? They might be open to a lower price. If not, bargaining with the owners might be a hard sell.
3. Is the property in a flood zone?
There are a number of reasons to ask if the property is in a flood zone. Obviously, you want to know if it does get affected by floods and to what extent i.e. height of flood waters, how regularly, etc.
If you are looking from an investment/development standpoint, you want to know if there may be restrictions on development opportunities i.e. if it is in a flood zone, you're unable to rebuild on a block unless you raise the development.
On top of property damage and loss, flooding can also impact one's well-being and financial circumstances (especially if the house is not insured).
Along with asking the real estate agent, you can also check the property's flood risk through the local council's flood maps.
It's also worthwhile asking if it has been flood affected if there's been a recent event. While you may not get an honest answer, telltale signs include miscoloured walls and skirting - or maybe the vendors haven't done a good job hiding the sandbags and they're in the shed or under the house.
4. Are there any current offers on the property?
If you like the property, you want to know if there are any offers on the home and what price bracket the owner is looking for. This will give you an indication of how popular the property has been. If it's increased, you'll probably have some competition. But if it's gone down, there might be something wrong with the property you haven't found just yet.
You also want to do your own market research to know if their asking price is higher than other similar properties in the area. If the offers are more than you're willing to pay, you could sweeten the deal via a faster settlement (if you are able).
Homes can also sell prior to auction, and while agents are unable to provide a price guide on the property, if there's been offers and no sale, this indicates it hasn't met the vendor's reserve price.
5. What is the history of the house?
Ask how old the property is - specifically when it was built. While a home may seem new at first glance, this may not be a true reflection of its age. Knowing how old a home is allows you to look out for signs of deterioration or underlying issues.
Ask the real estate agent if the owners have any inspection reports for the property. You'll be able to get your own inspections conducted if you go through with the sale. But you want to be aware of any potential issues before you make an offer. If you are buying an apartment, you'll also want to see strata reports, and ask about the body corporate.
6. Have any renovations been done?
Find out if the owners have completed or if they know about any renovations on the property. Homes, like anything else, are subject to a bit of wear and tear over time. If you purchase a home at the right age, replacing or restoring parts of the home might be inevitable. But if you're thorough during the open home, you might not have to.
You want to know what they've done recently - have a look to see if any renovations seem like they were completed professionally or if they were done to hide imperfections in the property - sad but true.
Some homes might have been renovated to look slick for photos and to suit the latest design trends, but the quality may be lacking and the home's fundamentals are poor. This includes fit and fixture quality, appliance quality, functionality such as useful power point locations and more.
Further, very old homes may have been renovated to look cute, but might lack basic modern amenities such as good insulation and the basics such as flyscreens or security screens on doors and windows, and might look out-of-place with them.
7. What are the zoning restrictions and can I renovate?
If you're thinking about renovating your new property, find out what the zoning restrictions on the property are. You'll need to contact the council for this conformation as the current owners or real estate agent may not have the most accurate information.
The vendors might have even received council approval for certain renovations, such as adding a second storey or granny flat, and not have gone through with it - this can be a bonus for you if you were looking at renovating as it saves the hassle of chasing the council for permits.
Further, some homes might also be listed as heritage or character homes. This often restricts the type of renovations you can do considerably.
8. What is the neighbourhood like and are there any future developments?
The location of the property should be a key factor in your decision. Is it near public transport or local shops? Do you want to live near a park? Is it in your school's catchment area?
Your location will also impact your parking options – does it have space for a car? Or will you need a permit to park on the street? Have a look at the garage or space to see how difficult it is to get in/out and onto the street. Ask the real estate agent about all the local amenities surrounding the property.
It's also worth considering HOW close the home is to busy streets and train stations, which can be noisy affairs. Some streets might be 'rat runs' for commuters looking to avoid the busy main streets. Also consider if it's directly under a flight path close to an airport or super close to a school that backs up with traffic at school drop off and pickup times.
If you're keen on a house, it's worthwhile driving through the neighbourhood at different times of day to get a feel for noise, traffic and other bugbears.
It can also be beneficial to ask about future developments in the area. New developments could mean better amenities such as shopping centres, restaurants, and medical facilities. But can also mean construction noise, and more traffic. Knowing what projects are planned for the future can give you a better insight into how you see yourself fitting in there, and potential resale or rental value.
9. What is the floor plan and how much space is there?
Don't be afraid to bring your measuring tape to get a better understanding of how much of your furniture will fit in the kitchen, in the lounge, in the shed.
Also consider the layout, for example if the loungeroom is right near the entrance which can impact the location and size of the TV and couch. Or if there is enough space in the combined living/dining for a lounge set and dining table.
Any agent and property listing worth their salt should have a floor plan, which includes dimensions, the aspect, and property size in square metres.
10. What is the aspect of the home and how much sunlight does it get?
Does the property heat up too much in summer and not enough in winter? Is there heating and air-conditioning already installed? The temperature of a house can easily go from comfortable to insufferable.
Keep in mind a west-facing property may get very hot on summer afternoons, and east-facing in the mornings. Rooms with large windows facing either the east or west can get very uncomfortable without aircon in the summer. Conversely, a south-facing property could get chilly in winter, especially in southern states. The generally preferred option in urban areas is a north-facing property.
Also check which direction are the windows facing? Natural sunlight can be really important in a home –making some rooms feel larger and more open. Some rooms, if they are towards the south of the property and have small windows could feel dark all the time, which can make it easy to get to sleep, but harder to wake up!
Before you start attending open homes, work out how much you can afford to borrow. Then, compare home loans to get pre-approval before you start searching the property listings online. You can apply online and get pre-approval, so you know exactly how much your budget is.